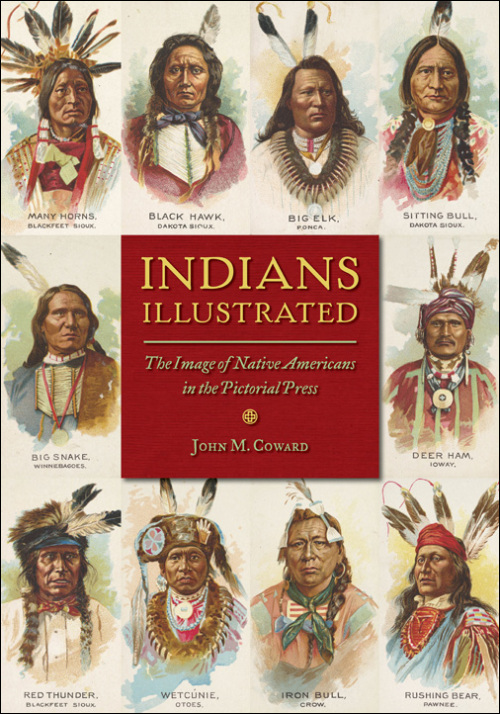 Indians Illustrated
The Image of Native Americans in the Pictorial Press
Sketching the form and figure of how whites came to see and understand Native Americans
Cloth – $110
978-0-252-04026-9
Paper – $29.95
978-0-252-08171-2
eBook – $14.95
978-0-252-09852-9
Publication Date
Cloth: 07/25/2016
About the Book
In the second half of the nineteenth century, Americans swarmed to take in a raft of new illustrated journals and papers. Engravings and drawings of "buckskinned braves" and "Indian princesses" proved an immensely popular attraction for consumers of publications like
Frank Leslie's Illustrated Newspaper
and
Harper's Weekly
.
In Indians Illustrated, John M. Coward charts a social and cultural history of Native American illustrations--romantic, violent, racist, peaceful, and otherwise--in the heyday of the American pictorial press. These woodblock engravings and ink drawings placed Native Americans into categories that drew from venerable "good" Indian and "bad" Indian stereotypes already threaded through the culture. Coward's examples show how the genre cemented white ideas about how Indians should look and behave--ideas that diminished Native Americans' cultural values and political influence. His powerful analysis of themes and visual tropes unlocks the racial codes and visual cues that whites used to represent--and marginalize--native cultures already engaged in a twilight struggle against inexorable westward expansion.Fascinating and provocative, Indians Illustrated reopens an overlooked chapter in media and cultural history.
Reviews
"Coward provides a fascinating look at how powerful the visual image can be on the development of cultural attitudes."--
Jhistory
"The book charts new territory, offers important new insights on a topic that deserves further examination, and opens doors to subsequent research for scholars and graduate students."--
American Indian Culture and Research Journal
"Coward provides a fascinating look at how powerful the visual image can be on the development of cultural attitudes.
Indians Illustrated
not only provides a crucial study for scholars of Native American culture but is also very useful as a text for scholars of race, anthropology, popular culture, and visual studies."--
H-Net Reviews
"
Indians Illustrated
is a good introduction to the concept that images of Native Americans in the nineteenth century popular press were constructed, framed, and viewed through Anglo-European American eyes and that the imagery has much less to do with real Native American life, history, or people than it has to do with the self-perception and self-ideation of its mainstream colonial counterpart."--
Journal of American Culture
"[Coward] makes a compelling case for the importance of these pictures as primary sources for cultural history." --
The Journal of American History
"This helpful book makes a major contribution to the field of communication and media history, laying a stronger foundation for helping the media, scholars, and society to understand, confront, and heal from how the media had been complicit in the conquest and genocide of the indigenous peoples of the Americas." --
CBQ: Communication Booknotes Quarterly
"Impressive. This book is an engaging example of 'visual history' done well." --
South Dakota History
"
Indians Illustrated is a good read that strongly contributes to our knowledge of American Indians' depictions and stereotyping while bringing the world of nineteenth-century printed press into our own homes. . . . very accessible to a general readership." --American Indian Quarterly

"Indians Illustrated is a good read that strongly contributes to our knowledge of American Indians' depictions and stereotyping while bringing the world of nineteenth-century printed press into our own homes." --American Indian Quarterly
---
Blurbs
"Rich in context and beautifully written. Other scholars have considered the stereotyping of Native Americans, but this book links the phenomenon to journalism/media history and explores the cultural significance of these widely circulated images."--Janice Hume, author of Popular Media and the American Revolution: Shaping Collective Memory

"John Coward provides a comprehensive, well-documented overview of the development of the visual clues that support Manifest Destiny and racial stereotypes of American Indians. No one has provided more insight or made such a detailed study of Native American images in the press. This is a one-of-a-kind book."--William E. Huntzicker, author of The Popular Press, 1833–1865

"If there is any story in the narrative of American history that exemplifies our reliance on stereotypes, it must be pictorial representations of Native Americans in the late 19th century press. In Indians Illustrated, John Coward explores this story with thoroughness, insight, and grace. By also including a wealth of well-chosen images, he helps explain not only the details of cultural production but a larger rendering of 'otherness' in America."--David Abrahamson, Northwestern University
---