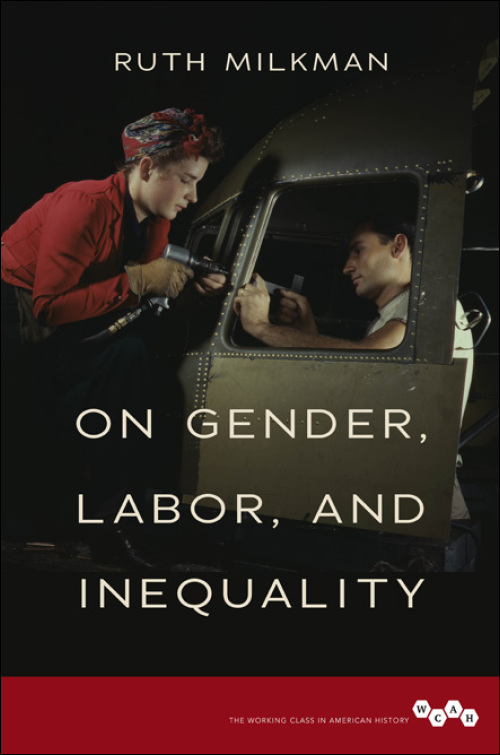 On Gender, Labor, and Inequality
Classic writings on women and work from the trailblazing author
Cloth – $125
978-0-252-04032-0
Paper – $28
978-0-252-08177-4
eBook – $19.95
978-0-252-09858-1
Publication Date
Cloth: 05/23/2016
About the Book
Ruth Milkman's groundbreaking research in women's labor history has contributed important perspectives on work and unionism in the United States.
On Gender, Labor, and Inequality
presents four decades of Milkman's essential writings, tracing the parallel evolutions of her ideas and the field she helped define.
Milkman's introduction frames a career-spanning scholarly project: her interrogation of historical and contemporary intersections of class and gender inequalities in the workplace, and the efforts to challenge those inequalities. Early chapters focus on her pioneering work on women's labor during the Great Depression and the World War II years. In the book's second half, Milkman turns to the past fifty years, a period that saw a dramatic decline in gender inequality even as growing class imbalances created greater-than-ever class disparity among women. She concludes with a previously unpublished essay comparing the impact of the Great Depression and the Great Recession on women workers.
A first-of-its-kind collection, On Gender, Labor, and Inequality is an indispensable text by one of the world's top scholars of gender, equality, and work.
Reviews
"Milkman's book is a must read, not only to remind those of us influenced by her excellent work how significant her scholarship was and is, but also for new scholars who can trace the intellectual evolution of a labor studies author whose writing has always been grounded in painstaking empirical research, and simultaneously dedicated to analyzing the origins and operation of social inequality, even as specific topics, theories, and approaches have shifted over time."--
Labour/ Le Travail
"A fascinating and timely set of articles."--
Dissent
"Milkman's collection will well serve scholars of the Great Plains with its comprehensive coverage, from a 1976 study of Great Depression female workers to an essay written for this volume that reprises the same questions for the 2008 Great Recession. The 11 essays constitute a history of women's relationships to both the workforce and unions across the twentieth century. . . . Milkman's decades of study provide a solid foundation for new work in Great Plains labor history."--
Great Plains Quarterly
---
Blurbs
"Throughout her distinguished career as a scholar-activist, Ruth Milkman has focused attention on the struggles of wage-earning women. An antidote to Lean In, her collection of essays explains why the fight for gender equality in a capitalist society typically only benefits elite women. When feminism focuses on the needs of working-class women, everyone wins."--Christine Williams, author of Inside Toyland: Working, Shopping, and Social Inequality

"What a pleasure to have in a single volume these brilliant, eye-opening essays by Ruth Milkman. It's all here--her stunning 1970s rethinking of Marx and sex-segregated labor markets to her recent revelatory studies of the stark class divides separating women today. Each essay is a gem, rigorous analytically and elegant in formation. A remarkable, intellectual game-changer of a collection."--Dorothy Sue Cobble, co-author of Feminism Unfinished: A Short, Surprising History of American Women's Movements
---