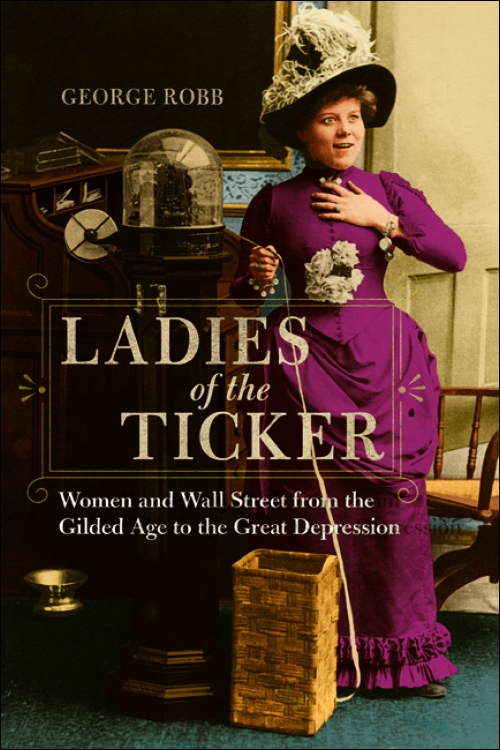 Ladies of the Ticker
Women and Wall Street from the Gilded Age to the Great Depression
Women who ran with the bulls and bears
Cloth – $110
978-0-252-04117-4
Paper – $24.95
978-0-252-08271-9
eBook – $14.95
978-0-252-09974-8
Publication Date
Paperback: 09/11/2017
Cloth: 09/11/2017
About the Book
Long overlooked in histories of finance, women played an essential role in areas such as banking and the stock market during the late nineteenth and early twentieth centuries. Yet their presence sparked ongoing controversy. Hetty Green's golden touch brought her millions, but she outraged critics with her rejection of domesticity. Progressives like Victoria Woodhull, meanwhile, saw financial acumen as more important for women than the vote.
George Robb's pioneering study explores the financial methods, accomplishments, and careers of three generations of women. Plumbing sources from stock brokers' ledgers to media coverage, Robb reveals the many ways women invested their capital while exploring their differing sources of information, approaches to finance, interactions with markets, and levels of expertise. He also rediscovers the forgotten women bankers, brokers, and speculators who blazed new trails--and sparked public outcries over women's unsuitability for the predatory rough-and-tumble of market capitalism.
Entertaining and vivid with details, Ladies of the Ticker sheds light on the trailblazers who transformed Wall Street into a place for women's work.
About the Author
George Robb is a professor of history at William Paterson University. He is the author of White-Collar Crime in Modern England and British Culture and the First World War.
Reviews
"Women made Wall Street, and
Ladies of the Ticker
proves it.--
Bitch
"A fascinating and well-argued read . . . Highly recommended."--
Choice
"Well researched, engagingly written, and nicely illustrated, the book succeeds not only in shedding light on how women behaved in financial markets but also in excavating the broader investment culture of the Gilded Age, with its clairvoyants-turned-stockbrokers, its bucket shops, and its get-rich-quick schemes."--
Enterprise & Society
"A strong writer with the ability to craft a compelling and data-rich historical account, Robb provides further evidence of women's active presence in markets during the Gilded Age." --
Journal of Business History
"Elegantly written, Robb's book provides a much-needed investigation of both the perception and the reality of women investors from the Gilded Age to the Great Depression." --
Economic History Reviews
---
Blurbs
"A well-written and insightful description of the under-researched role of women investors and financiers in Wall Street's heyday."--Janette Rutterford, coeditor of Women and their Money, 1700 to 1950

"George Robb's Ladies of the Ticker fills a significant gap in the history of capitalism, establishing through extensive archival research that women were active as investors in late nineteenth and early twentieth-century America. Crucially, Robb shows that economic and cultural histories are inseparable. Drawing with authoritative knowledge on a range of journalistic and literary texts, he explores the disjunction between representations of women as financially inept and the reality of their often competent and shrewd participation in an increasingly democratized stock market. The book is clear, accessible, and enjoyable to read. It is a major contribution to economic history and American history generally."--Nancy Henry, University of Tennessee
---