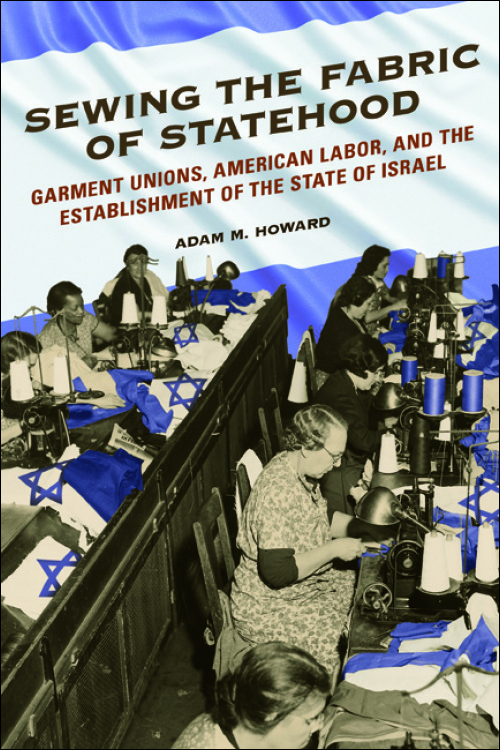 Sewing the Fabric of Statehood
Garment Unions, American Labor, and the Establishment of the State of Israel
Tailoring a movement dedicated to the idea of a Jewish homeland
Cloth – $110
978-0-252-04146-4
Paper – $24.95
978-0-252-08301-3
eBook – $14.95
978-0-252-05006-0
Publication Date
Paperback: 12/25/2017
Cloth: 12/25/2017
About the Book
Long a bastion of Jewish labor power, garment unions provided financial and political aid essential to founding and building the nation of Israel. Throughout the project, Jewish labor often operated outside of official channels as non-governmental organizations.
Adam M. Howard explores the untold story of how three influential garment unions worked--alone and with other Jewish labor organizations--in support of a new Jewish state. Sewing the Fabric of Statehood reveals a coalition at work on multiple fronts. Sustained efforts convinced the AFL and CIO to support Jewish development in Palestine through land purchases for Jewish workers and encouraged the construction of trade schools and cultural centers. Other activists, meanwhile, directed massive economic aid to Histadrut, the General Federation of Jewish Workers in Palestine, or pressured the British and American governments to recognize Israel's independence. What emerges is a powerful account of the motivations and ideals that led American labor to forge its own foreign policy--and reshape both the postwar world and Jewish history.
About the Author
Adam M. Howard is currently the general editor of the Foreign Relations of the United States series at the U.S. Department of State's Office of the Historian and is an adjunct professor of history and international affairs at George Washington University.
Reviews
"A welcome contribution to scholarship about US-Israel relations."--
H-Net
"Incorporating much primary research and comprehensive in its scope, this splendid study whets our appetite for additional insight." --
Jewish Historical Studies
"
Sewing the Fabric of Statehood
is a substantial contribution to a number of scholarly fields, including American labor history, American Jewish history, and the history of Zionism." --
H-Net Reviews
"
Sewing the Fabric of Statehood
would be of use to anyone interested in issues of leadership, interest groups, and foreign policy, as well as labor and Jewish history." --
American Historical Review
"Howard's book offers a thorough case study of the growth of Jewish labor's support for Israel. Readers will continue to turn to it for insights on a pillar of the U.S.-Israel relationship. " --
Journal of American History
---
Blurbs
"Groundbreaking. Adam Howard brings together new information and penetrating analysis of labor, ideology, and international relations that changes the paradigm for how we understand the U.S. role in Israel's creation and, more generally, the impact of non-state actors in international affairs."--Robert Anthony Waters, coeditor of American Labor's Global Ambassadors: The International History of the AFL-CIO during the Cold War

"An immensely useful and detailed account of the dimension of American Labor in the history of the creation of the state of Israel."--Wm. Roger Louis, University of Texas
---