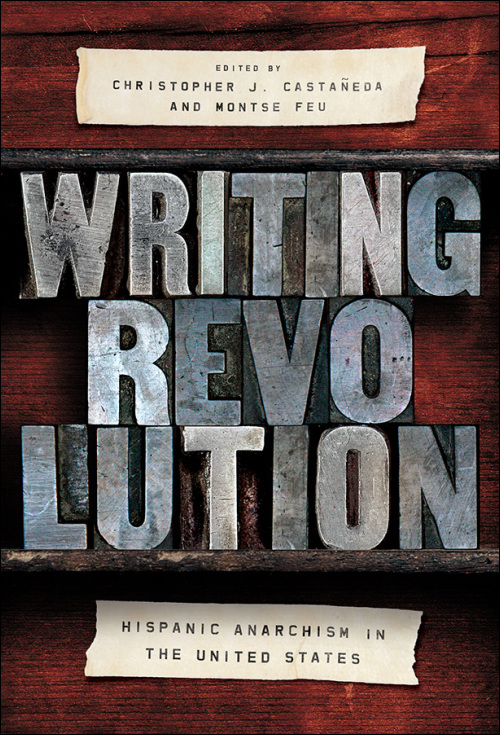 Writing Revolution
Hispanic Anarchism in the United States
Spanish-language print culture and the anarchist quest for a new world
Cloth – $110
978-0-252-04274-4
Paper – $30
978-0-252-08457-7
eBook – $19.95
978-0-252-05160-9
Publication Date
Paperback: 11/11/2019
Cloth: 11/11/2019
About the Book
In the late nineteenth through mid-twentieth centuries, the anarchist effort to promote free thought, individual liberty, and social equality relied upon an international Spanish-language print network. These channels for journalism and literature promoted anarchist ideas and practices while fostering transnational solidarity and activism from Buenos Aires to Los Angeles to Barcelona.
Christopher J. Castañeda and Montse Feu edit a collection that examines many facets of Spanish-language anarchist history. Arranged chronologically and thematically, the essays investigate anarchist print culture's transatlantic origins; Latina/o labor-oriented anarchism in the United States; the anarchist print presence in locales like Mexico's borderlands and Steubenville, Ohio; the history of essential publications and the individuals behind them; and the circulation of anarchist writing from the Spanish-American War to the twenty-first century.
Contributors: Jon Bekken, Christopher Castañeda, Jesse Cohn, Sergio Sánchez Collantes, María José Domínguez, Antonio Herrería Fernández, Montse Feu, Sonia Hernández, Jorell A. Meléndez-Badillo, Javier Navarro Navarro, Michel Otayek, Mario Martín Revellado, Susana Sueiro Seoane, Kirwin R. Shaffer, Alejandro de la Torre, and David Watson
About the Author
Christopher J. Castañeda is a professor in the Department of History at California State University, Sacramento. His books include River City and Valley Life: An Environmental History of the Sacramento Region. Montse Feu is an assistant professor of Spanish and co-director of graduate studies for the Spanish Program at Sam Houston State University. She is the author of Fighting Fascist Spain: Worker Protest from the Printing Press.
Reviews
"High-quality and worth reading. " --
Anarcho-Syndicalist Review
"This new collection edited by Christopher J. Castañeda and Montse Feu fills a substantial historiographical gap in the English language on Hispanic anarchism in the United States. The collection is sprawling in its ambition, with chapters ranging from discussions of early Spanish Republicanism and important but largely forgotten figures to analyses of individual newspapers and magazines. Despite this conglomeration of topics, the book flows easily, thanks in part to its chronological and thematic organization." --
The Volunteer
"
Writing Revolutions's specific focus on the anarchist press sheds necessary light on the complexity of late nineteenth- and early twentieth-century anarchist networks among a variety of Hispanophone social groups from the U.S., Latin America, and Europe." --American Periodicals


---
Blurbs
"This phenomenal collection brings to light the breadth, depth, and interconnectedness of the Spanish-speaking anarchist movement in the United States, as well as the transnational networks that linked it to Europe, the Caribbean, and Latin America. Essential reading for anyone interested in either anarchism or Hispanic labor and radicalism."--Kenyon Zimmer, author of Immigrants against the State: Yiddish and Italian Anarchism in the United States

"Anarchism in the United States was so misunderstood and feared in the late nineteenth and early twentieth centuries that governmental authorities at all levels worked their hardest to obliterate it, smash its presses and deport or imprison its leaders. Government mail censors, G-men, local sheriffs, not to mention political hacks and journalists were so successful in their persecution that most of the documents necessary to study this idealistic, social justice movement were destroyed and are still missing today. The editors and authors of the well documented, enlightening essays in Writing Revolution have done the yeomen's work of tracking down a good portion of this legacy that was so important in educating workers and establishing the rights they still vouchsafe today. Castañeda and Feu, inveterate researchers into Latino history and identity, have taken the lead in restoring the role played by Spanish-language anarchist print in the development of Latino working-class culture. That the editors and writers here were able to trace the transnational networks of the Hispanic anarchists, as well as locate and study such a large sampling of their periodicals and documents, has not only the potential of filling gaps in our history but also of providing a whole new corpus of texts that will put a lie to the concept that only the victors get to tell their stories. Castañeda, Feu, and their collaborators have restored the testimonies of so many activists and organic intellectuals that it will take many other scholars years to follow up on and study their discoveries."--Nicolás Kanellos, author of Hispanic Immigrant Literature: El Sueño del Retorno
---