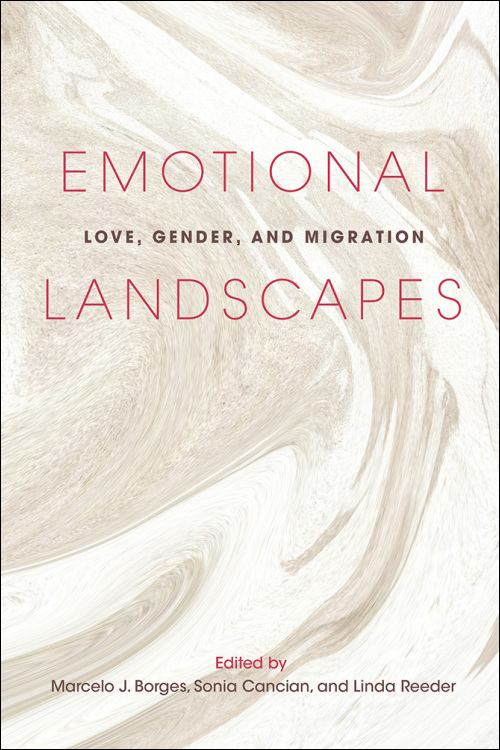 Emotional Landscapes
Love, Gender, and Migration
Epilogue by Donna R. Gabaccia
Love and the human side of migration
Cloth – $110
978-0-252-04349-9
Paper – $30
978-0-252-08539-0
eBook – $19.95
978-0-252-05237-8
Publication Date
Paperback: 01/11/2021
Cloth: 01/11/2021
About the Book
Love and its attendant emotions not only spur migration—they forge our response to the people who leave their homes in search of new lives.
Emotional Landscapes
looks at the power of love, and the words we use to express it, to explore the immigration experience. The authors focus on intimate emotional language and how languages of love shape the ways human beings migrate but also create meaning for migrants, their families, and their societies. Looking at sources ranging from letters of Portuguese immigrants in the 1880s to tweets passed among immigrant families in today's Italy, the essays explore the sentimental, sexual, and political meanings of love. The authors also look at how immigrants and those around them use love to justify separation and loss, and how love influences us to privilege certain immigrants—wives, children, lovers, refugees—over others.
Affecting and perceptive, Emotional Landscapes moves from war and transnational families to gender and citizenship to explore the crossroads of migration and the history of emotion.
Contributors: María Bjerg, Marcelo J. Borges, Sonia Cancian, Tyler Carrington, Margarita Dounia, Alexander Freund, Donna R. Gabaccia, A. James Hammerton, Mirjam Milharèiè Hladnik, Emily Pope-Obeda, Linda Reeder, Roberta Ricucci, Suzanne M. Sinke, and Elizabeth Zanoni
About the Author
Marcelo J. Borges is a professor of history at Dickinson College. He is the author of Chains of Gold: Portuguese Migration to Argentina in Transatlantic Perspective. Sonia Cancian is a historian affiliated with McGill University's Centre for Interdisciplinary Research on Montreal. She is the author of Families, Lovers, and Their Letters: Italian Postwar Migration to Canada. Linda Reeder is an associate professor of history and chair of women's and gender studies at the University of Missouri. She is the author of Widows in White: Migration and the Transformation of Rural Italian Women, Sicily, 1880–1920.
Reviews
"The rich empirical case studies of this substantive volume are difficult to cover fully in a short review. They bring the sensitivity of the history of emotion to bear on love's complexity, historicity, and changing nature, as defined and shaped through gender and place." --
Journal of Interdisciplinary History
"A valuable insight into the multifaceted migration experience imbued with emotions. . . . Love, gender, and migration are interwoven in all the narratives. Love as a driving force of migration, its meaning, the main bond overcoming distance, and an affective underpinning of public discourse pursuing political interests." --
Two Homelands
---
Blurbs
"This is a fascinating collection, giving us access to the emotional experience of groups we have not yet seen from this angle and amplifying our understanding of a key emotion as well."--Peter Stearns, author of Shame: A Brief History
---