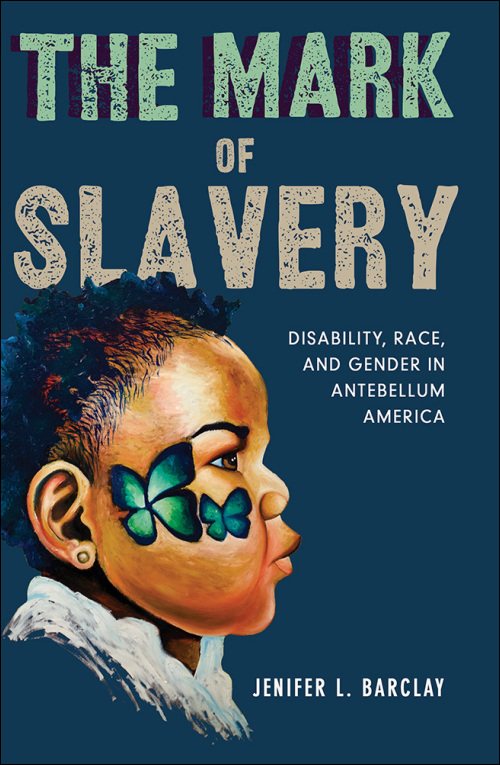 The Mark of Slavery
Disability, Race, and Gender in Antebellum America
Exploring the disability history of slavery
Cloth – $110
978-0-252-04372-7
Paper – $28
978-0-252-08570-3
eBook – $19.95
978-0-252-05261-3
Publication Date
Paperback: 04/13/2021
Cloth: 04/13/2021
About the Book
Time and again, antebellum Americans justified slavery and white supremacy by linking blackness to disability, defectiveness, and dependency. Jenifer L. Barclay examines the ubiquitous narratives that depicted black people with disabilities as pitiable, monstrous, or comical, narratives used not only to defend slavery but also to argue against it. As she shows, this relationship between ableism and racism impacted racial identities during the antebellum period and played an overlooked role in shaping American history afterward. Barclay also illuminates the everyday lives of the ten percent of enslaved people who lived with disabilities. Devalued by slaveholders as unsound and therefore worthless, these individuals nonetheless carved out an unusual autonomy. Their roles as caregivers, healers, and keepers of memory made them esteemed within their own communities and celebrated figures in song and folklore.
Prescient in its analysis and rich in detail, The Mark of Slavery is a powerful addition to the intertwined histories of disability, slavery, and race.
Watch the virtual event featuring Jenifer Barclay in conversation with Stefanie Hunt-Kennedy, moderated by Daina Ramey Berry
About the Author
Jenifer L. Barclay is an assistant professor of history at the University at Buffalo.
Reviews
"This original work adds an important new voice to conversations about slavery, disability, and medical history. Exceptional analysis of an understudied topic" --
Library Journal
(starred review)
"Addressing an often-overlooked aspect of the experiences of enslaved people, Barclay intricately examines the connection between racism, disabilities and slavery, as well as the legacy it left behind, in this important and well-researched volume." --
Ms. Magazine
"Highly recommended." --
Choice
"Jenifer Barclay offers us a powerful, deeply researched, and rich study of the meanings of disability in the antebellum South. The sheer breadth of literature that this work speaks to is impressive. . . .
The Mark of Slavery
is a critical intervention into fields that have ignored or marginalized disability." --
American Nineteenth Century History
"While many of the racist and ableist discourses seemed to be contradictory and nonsensical, Barclay skillfully demonstrates how each of the narratives work together to create a larger, long-standing co-constitution of Blackness, disability, and dependency. . . . After reading this book, it is near impossible to consider race in America as anything separate from disability and ableism. . . . Compelling." --
Ethnic and Racial Studies
"Barclay's study is a well-researched investigation of nineteenth-century cultural debates on race and the body. Disability scholarship has flourished in recent years, and Barclay's book is a welcome contribution to the field." --
The Journal of Southern History
---
Blurbs
"Barclay's deft handling of disability through her archival research, the brilliance of her scholarship on the ways that blackness becomes synonymous with disability, her skillful use of Black Critical Disability Studies as a methodological framework, and clear and persuasive prose allows us greater insight into the debilitating effects of slavery as a disabling device for its victims."--Deirdre Cooper Owens, author of Medical Bondage: Race, Gender, and the Origins of American Gynecology
---