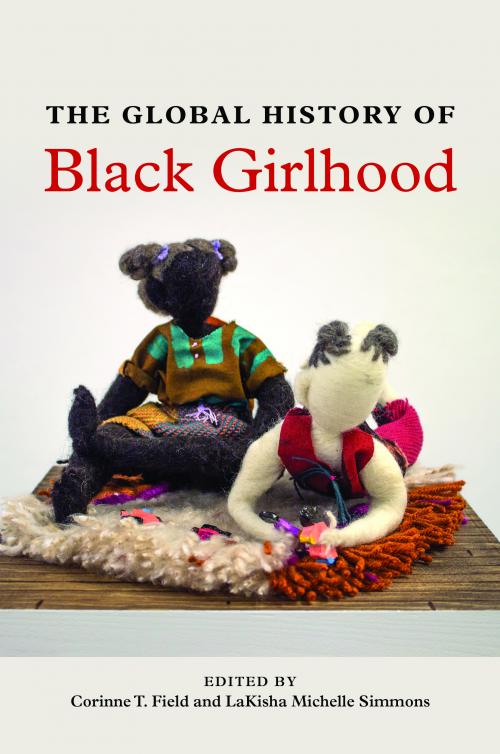 The Global History of Black Girlhood
How and why we should seek out the Black girls of the past
Cloth – $125
978-0-252-04462-5
Paper – $24.95
978-0-252-08669-4
eBook – $14.95
978-0-252-05363-4
Publication Date
Paperback: 09/27/2022
Cloth: 09/27/2022
About the Book
The Global History of Black Girlhood
boldly claims that Black girls are so important we should know their histories. Yet, how do we find the stories and materials we need to hear Black girls' voices and understand their lives? Corinne T. Field and LaKisha Michelle Simmons edit a collection of writings that explores the many ways scholars, artists, and activists think and write about Black girls' pasts. The contributors engage in interdisciplinary conversations that consider what it means to be a girl; the meaning of Blackness when seen from the perspectives of girls in different times and places; and the ways Black girls have imagined themselves as part of a global African diaspora.
Thought-provoking and original, The Global History of Black Girlhood opens up new possibilities for understanding Black girls in the past while offering useful tools for present-day Black girls eager to explore the histories of those who came before them.
Contributors: Janaé E. Bonsu, Ruth Nicole Brown, Tara Bynum, Casidy Campbell, Katherine Capshaw, Bev Palesa Ditsie, Sarah Duff, Cynthia Greenlee, Claudrena Harold, Anasa Hicks, Lindsey Jones, Phindile Kunene, Denise Oliver-Velez, Jennifer Palmer, Vanessa Plumly, Shani Roper, SA Smythe, Nastassja Swift, Dara Walker, Najya Williams, and Nazera Wright
* Publication of this book was supported by the Graduate School of Arts and Sciences and the Department of Women, Gender & Sexuality, University of Virginia.
About the Author
Corinne T. Field is an associate professor of women, gender, and sexuality at the University of Virginia. She is the author of The Struggle for Equal Adulthood: Gender, Race, Age, and the Fight for Citizenship in Antebellum America and coeditor of Age in America: The Colonial Era to the Present. LaKisha Michelle Simmons is an associate professor of history and women's and gender studies at the University of Michigan. She is the author of Crescent City Girls: The Lives of Young Black Women in Segregated New Orleans. Field and Simmons are cofounders of the History of Black Girlhood Network.
Reviews
"The essays collected in
The Global History of Black Girlhood
are groundbreaking, delivering history lessons with present-day implications." --
Foreword Reviews
"An indispensable volume highlighting the histories of Black girls and girlhood." --
Ms. Magazine
---
Blurbs
"What we now have is a book that interrogates how we find black girls, focusing on sources, epistemology, and scholarship. The editors have created a volume that expresses the full spectrum of black girl humanity--the repression and oppression with the joy and moments of pleasure. A foundational anthology in an emerging field."--Françoise N. Hamlin, author of Crossroads at Clarksdale: The Black Freedom Struggle in the Mississippi Delta after World War II
---