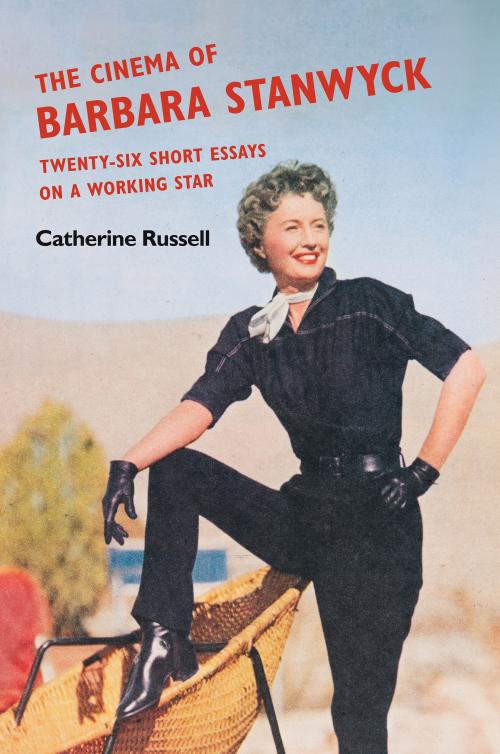 The Cinema of Barbara Stanwyck
Twenty-Six Short Essays on a Working Star
An innovative from-all-sides look at the hardest-working actress in Hollywood
Cloth – $125
978-0-252-04504-2
Paper – $29.95
978-0-252-08717-2
eBook – $14.95
978-0-252-05431-0
Publication Date
Paperback: 05/02/2023
Cloth: 05/02/2023
About the Book
From
The Lady Eve,
to
The Big Valley,
Barbara Stanwyck played parts that showcased her multidimensional talents but also illustrated the limits imposed on women in film and television. Catherine Russell's A to Z consideration of the iconic actress analyzes twenty-six facets of Stanwyck and the America of her times. Russell examines Stanwyck's work onscreen against the backdrop of costuming and other aspects of filmmaking. But she also views the actress's off-screen performance within the Hollywood networks that made her an industry favorite and longtime cornerstone of the entertainment community. Russell's montage approach coalesces into an engrossing portrait of a singular artist whose intelligence and savvy placed her center-stage in the production of her films and in the debates around women, femininity, and motherhood that roiled mid-century America.
Original and rich, The Cinema of Barbara Stanwyck is an essential and entertaining reexamination of an enduring Hollywood star.
About the Author
Catherine Russell is Distinguished University Research Professor of Cinema at Concordia University. Her books include Archiveology: Walter Benjamin and Archival Film Practices and Classical Japanese Cinema Revisited.
Reviews
---
Blurbs
"Catherine Russell's inventive study of Barbara Stanwyck's long, fascinating career as a 'working star' offers a tantalizing model for other feminist histories of women's work in the film industry. Achronological and essayistic, Russell's approach weaves back and forth between Stanwyck's onscreen roles, her star persona, and her working life to document what Russell calls 'the structural misogyny of the industry.'"--Shelley Stamp, author of Lois Weber in Early Hollywood

"A deeply creative and insightful critical study of Barbara Stanwyck's agency and labor as a performer, The Cinema of Barbara Stanwyck is a stunning blend of feminist historiography, archival research, star-studies biography, and film analysis--a rewarding and immensely pleasurable read."--Julie Grossman, author of The Femme Fatale
---