You should eat. In From the Jewish Heartland, noshers and freshers alike can explore Jewish culinary innovation, Midwest style. Ellen F. Steinberg and Jack H. Prost curate treasures uncovered in Jewish homemakers' handwritten manuscripts and notebooks, published journals and newspaper columns, and interviews with Jewish cooks, bakers, and delicatessen owners. Go beyond grocery stores bagels and that unspeakable brisket your sister makes to sample regional delights like Tzizel rye breads coated in cornmeal, savory gefilte fish from Minnesota northern pike, and Kwogle that is to die for.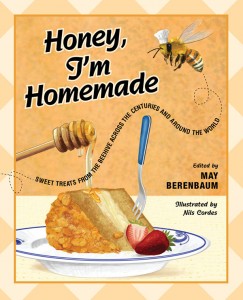 Honey. It's not just for bears anymore. In fact, the healthy buzz surrounding honey has made it the most popular superfood this side of kale. In Honey, I'm Homemade, entomologist May Berenbaum harvests the history of the viscous gold treat and shares a wealth of recipes for cookies, breads, pies, puddings, and cakes that use honey as the essential ingredient. She also pays tribute to the honey bee, the insect ally that services three-quarters of all flowering plant species.
For a limited time you can purchase our regional Best of Illinois titles at a 40% discount with the promo code BEST40. Sale ends December 31, 2014. View the Best of Illinois catalog here.