Ken Albala, author of The Great Gelatin Revival: Savory Aspics, Jiggly Shots, and Outrageous Desserts, answers questions on his scholarly influences, discoveries, and reader takeaways from his new book.
Q: Why did you decide to write this book?
I was dared by a friend to join an aspic group on Facebook, which I resisted, but eventually gave in and took a peek. After making a few gelatin dishes, I was completely hooked. After many months of making Jell-O, I figured I ought to get a book out of it and this is the result. I did all the photography in my kitchen, as well.
Q: Who were your biggest influences?
Historic cookbooks with gelatin recipes are much more interesting than the mid-twentieth century recipes that are used to sell the Jell-O brand. They almost always included alcohol and never used artificial colors or lurid, fruity flavors. I made a few of the recipes and then went in my own direction, which was often out in left field, admittedly. The Show Me Your Aspics Facebook group gave me enthusiastic support and I included the recipes they liked best.
Q: What is the most interesting discovery you made while researching and writing your book?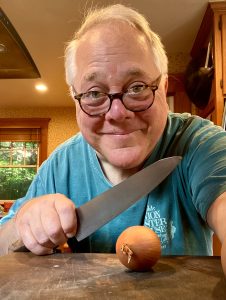 Almost anything that tastes good can be made into gelatin. If it looks or sounds bad, chances are it will be, though I pushed the threshold of repugnance very far in this book and even expanded my own palate, immeasurably. I hope readers will follow.
Q: What myths do you hope your book will dispel or what do you hope your book will help readers unlearn?
The myth that making gelatin from scratch was difficult and smelly, took a lot of skill, and only the rich could afford it. The supposed democratization of gelatin was invented by the companies selling instant Jell-O, but it's actually easy and cheap to make.
Q: What is the most important idea you hope readers will take away from your book?
That gelatin will rise again in popularity. I'm just trying to help it along and suggest something more interesting than your average Jell-O shot.
Q: What do you like to read/watch/or listen to for fun?
Cooking shows, although I really dislike competitive ones. My favorites take you into a Japanese noodle shop or diner and let you watch food being prepared. My last book, Noodle Soup (UIP, 2018), aided in this obsession.