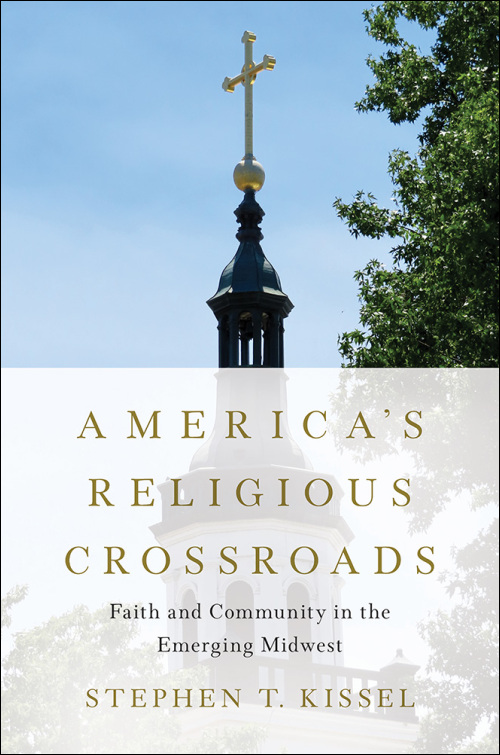 America's Religious Crossroads
Faith and Community in the Emerging Midwest
Religion's influence on the Old Northwest
Cloth – $110
978-0-252-04423-6
Paper – $28
978-0-252-08627-4
eBook – $19.95
978-0-252-05319-1
Publication Date
Paperback: 12/28/2021
Cloth: 12/28/2021
About the Book
Between 1790 and 1850, waves of Anglo-Americans, African Americans, and European immigrants flooded the Old Northwest (modern-day Ohio, Indiana, Michigan, Illinois, and Wisconsin). They brought with them a mosaic of Christian religious belief. Stephen T. Kissel draws on a wealth of primary sources to examine the foundational role that organized religion played in shaping the social, cultural, and civic infrastructure of the region. As he shows, believers from both traditional denominations and religious utopian societies found fertile ground for religious unity and fervor. Able to influence settlement from the earliest days, organized religion integrated faith into local townscapes and civic identity while facilitating many of the Old Northwest's earliest advances in literacy, charitable public outreach, formal education, and social reform. Kissel also unearths fascinating stories of how faith influenced the bonds, networks, and relationships that allowed isolated western settlements to grow and evolve a distinct regional identity.
Perceptive and broad in scope, America's Religious Crossroads illuminates the integral relationship between communal and spiritual growth in early Midwestern history.
About the Author
Stephen T. Kissel is an assistant professor of history at Oakland City (Indiana) University.
Reviews
"In this sweeping study, Stephen T. Kissel explores the centrality of religion to the formation of civic society in the Old Northwest. The higher-level analysis Kissel offers underscores the distinctive contribution this book makes to the literature." --
American Nineteenth Century History
"Kissel's research is thorough, deep, and remarkably broad, especially for a first book." --
Middle West Review
---
Blurbs
"An important work. Kissel demonstrates the commonalities in the processes of community organization--domestic devotion, church-building, schooling, discipline, and civic engagement--shared across the religious faiths in the first generation of Euro-American settlement of the Old Northwest."--Kyle Roberts, author of Evangelical Gotham: Religion and the Making of New York City, 1783-1860
---