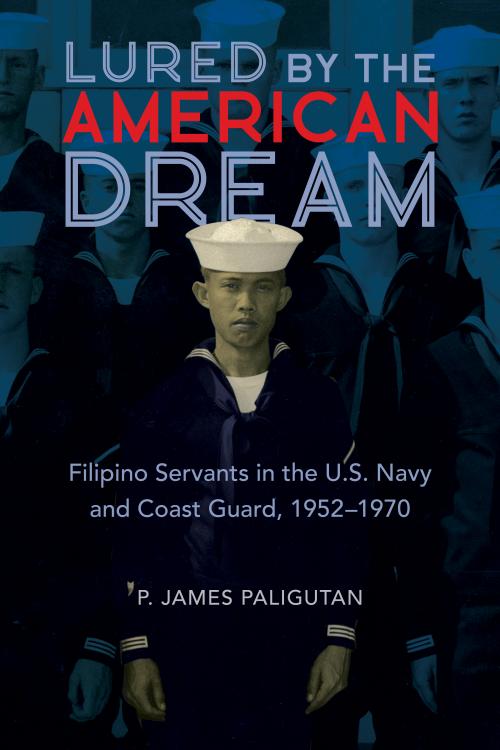 Lured by the American Dream
Filipino Servants in the U.S. Navy and Coast Guard, 1952-1970
How Filipino sailors sought equal opportunity
Cloth – $110
978-0-252-04459-5
Paper – $25
978-0-252-08667-0
eBook – $19.95
978-0-252-05360-3
Publication Date
Paperback: 10/25/2022
Cloth: 10/25/2022
About the Book
Starting in 1952, the United States Navy and Coast Guard actively recruited Filipino men to serve as stewards--domestic servants for officers. Oral histories and detailed archival research inform P. James Paligutan's story of the critical role played by Filipino sailors in putting an end to race-based military policies. Constrained by systemic exploitation, Filipino stewards responded with direct complaints to flag officers and chaplains, rating transfer requests that flooded the bureaucracy, and refusals to work. Their actions had a decisive impact on seagoing military's elimination of the antiquated steward position. Paligutan looks at these Filipino sailors as agents of change while examining the military system through the lens of white supremacy, racist perceptions of Asian males, and the motives of Filipinos who joined the armed forces of the power that had colonized their nation.
Insightful and dramatic, Lured by the American Dream is the untold story of how Filipino servicepersons overcame tradition and hierarchy in their quest for dignity.
About the Author
P. James Paligutan is a lecturer in Asian American studies at California State University, Fullerton.
Reviews
---
Blurbs
"Accessible and sophisticated. Paligutan's exploration of the recruitment and experiences of Filipino navy men is an excellent illustration of how economic underdevelopment of the Philippines in the interests of U.S. economic and political gain created the first of many pools of cheap Filipino migrant workers. Paligutan has done a fantastic job of weaving in an intersectional analysis of gender, particularly masculinity, throughout the book."--Valerie Francisco-Menchavez, author of The Labor of Care: Filipina Migrants and Transnational Families in the Digital Age
---