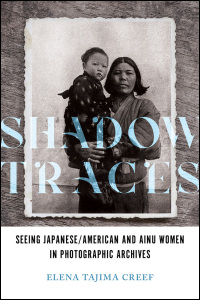 Shadow Traces
Seeing Japanese/American and Ainu Women in Photographic Archives
Reconsidering the use of images in histories of Asian American women
Cloth – $110
978-0-252-04440-3
Paper – $26
978-0-252-08647-2
eBook – $19.95
978-0-252-05339-9
Publication Date
Paperback: 04/19/2022
Cloth: 04/19/2022
About the Book
Images of Japanese and Japanese American women can teach us what it meant to be visible at specific moments in history. Elena Tajima Creef employs an Asian American feminist vantage point to examine ways of looking at indigenous Japanese Ainu women taking part in the 1904 Louisiana Purchase Exposition; Japanese immigrant picture brides of the early twentieth century; interned Nisei women in World War II camps; and Japanese war brides who immigrated to the United States in the 1950s. Creef illustrates how an against-the-grain viewing of these images and other archival materials offers textual traces that invite us to reconsider the visual history of these women and other distinct historical groups. As she shows, using an archival collection's range as a lens and frame helps us discover new intersections between race, class, gender, history, and photography.
Innovative and engaging, Shadow Traces illuminates how photographs shape the history of marginalized people and outlines a method for using such materials in interdisciplinary research.
About the Author
Elena Tajima Creef is a professor of Women's and Gender Studies at Wellesley College. She is the author of Imaging Japanese America: The Visual Construction of Citizenship, Nation, and the Body.
Reviews
---
Blurbs
"A tour de force. Creef provides nothing less than a visual pedagogy for Asian American feminism. She mines the dark gaze of imperial power and blank spots of gender history as well as its secrets. When she engages the family album (and story of a hapless Japanese pet dog, Butch) as a site of memory and memorialization, you cannot put the book down."--Leslie Bow, author of "Partly Colored": Asian Americans and Racial Anomaly in the Segregated South
---