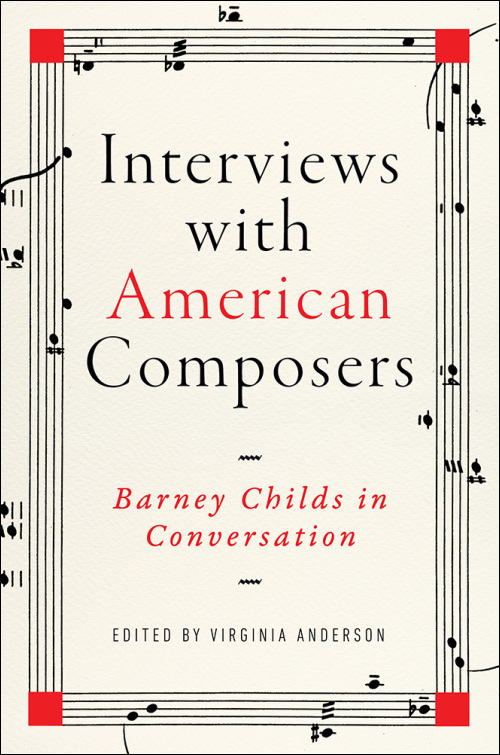 Interviews with American Composers
Barney Childs in Conversation
Twenty-three influential composers, in their own words
Cloth – $60
978-0-252-04399-4
eBook – $19.95
978-0-252-05292-7
Publication Date
Cloth: 01/25/2022
About the Book
In 1972-73, Barney Childs embarked on an ambitious attempt to survey the landscape of new American concert music. He recorded freewheeling conversations with fellow composers, most of them under forty, all of them important but most not yet famous. Though unable to publish the interviews in his lifetime, Childs had gathered invaluable dialogues with the likes of Robert Ashley, Olly Wilson, Harold Budd, Christian Wolff, and others.
Virginia Anderson edits the first published collection of these conversations. She pairs each interview with a contextual essay by a contemporary expert that shows how the composer's discussion with Childs fits into his life and work. Together, the interviewees cover a broad range of ideas and concerns around topics like education, notation, developments in electronic music, changing demands on performers, and tonal music.
Innovative and revealing, Interviews with American Composers is an artistic and historical snapshot of American music at an important crossroads.
Contributors: Virginia Anderson, Jay M. Arms, Thomas S. Clark, Stuart Dempster, Michelle Fillion, Robert Fink, Peter Gena, Sara Haefeli, Rob Haskins, Dave Headlam, Kevin Holm-Hudson, Ronald Kuivila, David Neal Lewis, Gayle Sherwood Magee, Horace J. Maxile Jr., Jeffrey Perry, James Pritchett, Bruce Quaglia, John Schneider, and Frances White
* Publication of this book was supported by a grant from the Henry and Edna Binkele Classical Music Fund.
About the Author
Barney Childs (1926-2000) was an experimental music composer, poet, and educator. His compositions included chamber music and music for keyboards. Virginia Anderson maintained the Experimental Music Catalogue and was the editor of the Journal of Experimental Music Studies. She died in 2021.
Reviews
---
Blurbs
"A unique time capsule of recent history of the state of the field of art music composition in the United States in 1972. Virginia Anderson presents Childs's interviews as-is, warts and all. As such, each interview is revealing of the character of the times and of the protagonists."--Chris Brown, Professor Emeritus and former Co-Director of the Center for Contemporary Music, Mills College
---