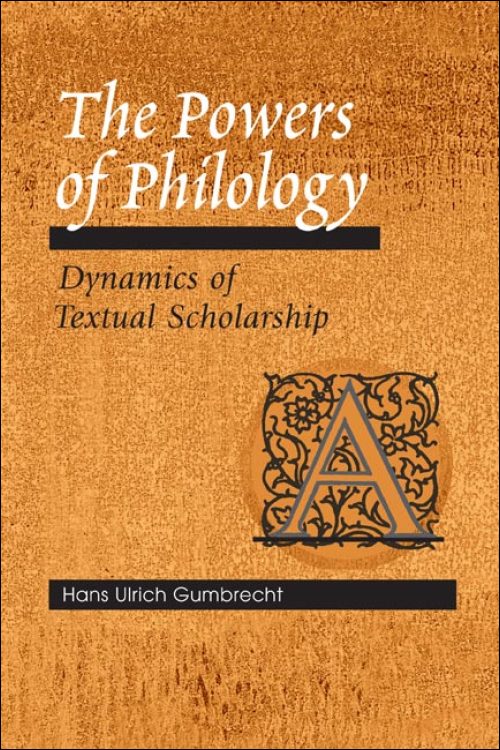 The Powers of Philology
Dynamics of Textual Scholarship
A stimulating arguement for the return to the traditional focus of Philology
Cloth – $31
978-0-252-02830-4
Publication Date
Cloth: 08/07/2003
About the Book
Philology–-the discovery, editing, and presentation of historical texts–-was once a firmly established discipline that formed the core study for students across a wide range of linguistic and literary fields. Although philology departments are steadily disappearing from contemporary educational establishments, in this book Hans Ulrich Gumbrecht demonstrates that the problems, standards, and methods of philology remain as vital as ever.
For two and a half millennia philologists have viewed themselves as the modest heirs and curators of their textual past's most glorious periods, collecting and editing text fragments, historicizing them and adding commentary, and ultimately teaching them to contemporary readers.
Gumbrecht argues for a return to this tradition as an alternative to an often free-floating textual interpretation and to the more recent redefinition of literary studies as "cultural studies," which risks a loss of intellectual focus. Such a return to philological core exercises, however, can become more than yet another movement of academic nostalgia only if it takes into account the hidden desire that has inspiredphilology since its Hellenistic beginnings: the desire to make the past present again by embodying it.
About the Author
Hans Gumbrecht is the Albert Guérard Professor of Literature at Stanford University, an associate professor in the Department of Comparative Literature at the Université de Montréal, and directeur d'études associé at the École des Hautes Études in Paris. His more than four hundred publications have been translated into seventeen languages.
Reviews
"A splendid study from an important theorist on an increasingly topical issue. These stimulating and rewarding essays cover the full gamut of philological problems--everything that a practicing or aspiring student of literature might and should want to ponder."--James I. Porter, author of The Invention of Dionysus and Nietzsche and the Philology of the Future

"A clear and cogent work that bears the stamp of Gumbrecht's original mind and his engagement with a daunting critical tradition. The Powers of Philology leads the reader into a complex, rich reflection on the identifying areas defining philological competence."--Joan Ramon Resina, editor of Diacritics and of the volumes Iberian Cities and After-Images of the City
---