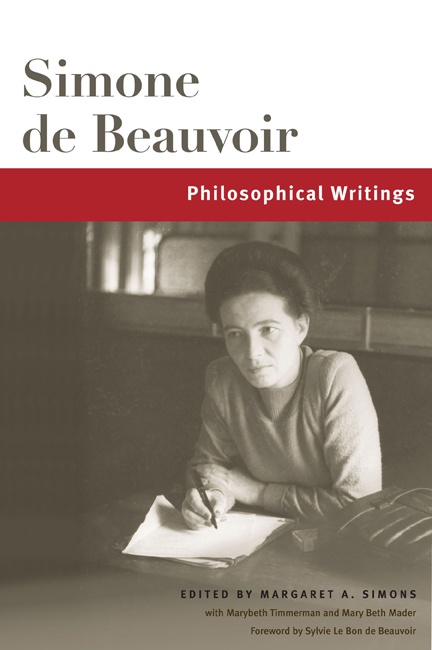 Philosophical Writings
Edited by Margaret A. Simons with Marybeth Timmermann and Mary Beth MaderForeword by Sylvie Le Bon de Beauvoir
The first complete, scholarly edition of Beauvoir's essays in English translation
Cloth – $44
978-0-252-02982-0
Paper – $24.95
978-0-252-08593-2
eBook – $14.95
978-0-252-09716-4
Publication Date
Paperback: 02/23/2021
Cloth: 12/31/2004
About the Book
Despite growing interest in her philosophy, Simone de Beauvoir remains widely misunderstood. She is typically portrayed as a mere intellectual follower of her companion, Jean-Paul Sartre. In
Philosophical Writings
, Beauvoir herself shows that nothing could be further from the truth.
Beauvoir's philosophical work suffers from a lack of English-language translation or, worse, mistranslation into heavily condensed popular versions. Philosophical Writings provides an unprecedented collection of complete, scholarly editions of philosophical texts that cover the first twenty-three years of Beauvoir's career, including a number of recently discovered works. Ranging from metaphysical literature to existentialist ethics, Philosophical Writings brings together diverse elements of Beauvoir's work while highlighting continuities in the development of her thought. Each of the translations features detailed notes and a scholarly introduction explaining its larger significance.
Revelatory and long overdue, Philosophical Writings adds to the ongoing resurgence of interest in Beauvoir's thought and to her growing influence on today's philosophical curriculum.
About the Author
Simone de Beauvoir
(1908–86) was a French existentialist philosopher. Her works include
Ethics of Ambiguity
(1947) and
The Second Sex
(1949).
Margaret A. Simons
is a professor of philosophy at Southern Illinois University, Edwardsville, and author of
Beauvoir and the Second Sex.
Sylvie Le Bon de Beauvoir,
adopted daughter and literary executor of Simone de Beauvoir, is the editor of
Lettres à Sartre
and many other works by Beauvoir.
Marybeth Timmermann
is a contributing translator and editor of
"The Useless Mouths" and Other Literary Writings
, and other works by Beauvoir.
Mary Beth Mader
is a professor of philosophy at the University of Memphis and the author of
Sleights of Reason: Norm, Bisexuality, Development
.
---
Also by this author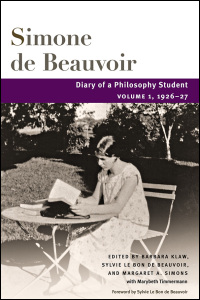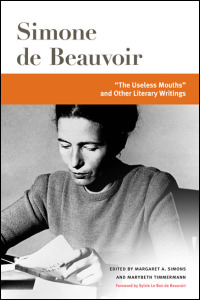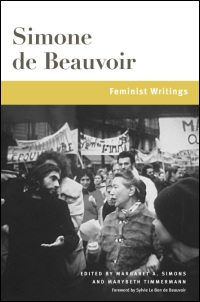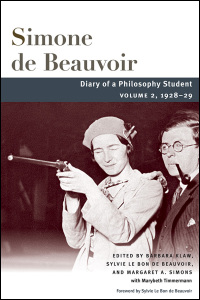 Reviews
"A valuable addition to collections of philosophy, feminism, and modern French literature. Recommended."--
Choice
"What emerges from the essays
Philosophical Writings
collects will neither shock nor surprise Beauvoir scholars but is sure to delight. . . . The editors and contributors to
Philosophical Writings
have crafted an engaging text that is sure to encourage a deeper interest in the study of Beauvoir and her place in the philosophical canon."--
Hypatia
---
Blurbs
"This work is a treasure. Now, English-speaking readers who are not fluent in French will have the opportunity to read these selections for themselves. Each piece is preceded by a very helpful introduction and commentary by a well-known Beauvoir scholar, who places the piece in context and notes how it relates to one or more of Beauvoir's better-known works that have long been translated into English. Each selection also has its own translator (distinct from the commentator). The translations read beautifully, and they also have appropriately detailed scholarly notes, which make the selections even more accessible to students. . . . There is no other book to compete with this one."--Claudia Card, editor of Cambridge Companion to Simone de Beauvoir

"I am amazed by this volume, which alone makes it clear that Beauvoir's philosophy informs rather than is derived from Sartre's. Philosophical Writings is an outstanding gem. This series will change the history of philosophy."--Kelly Oliver, author of Witnessing: Beyond Recognition
---