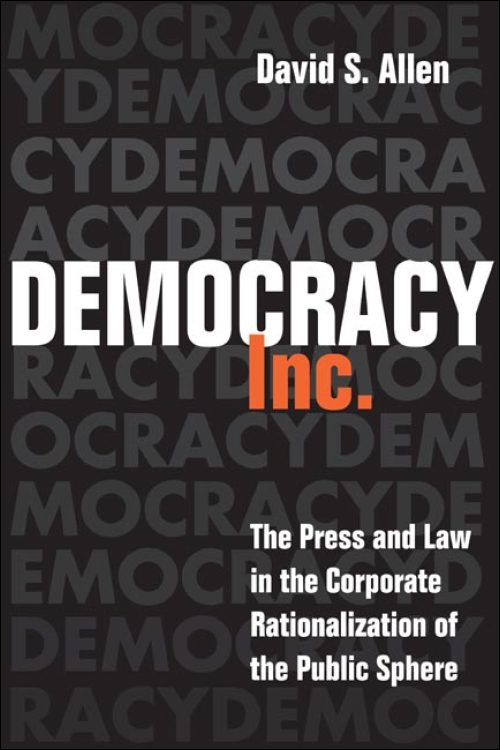 Democracy, Inc.
The Press and Law in the Corporate Rationalization of the Public Sphere
How the infiltration of corporate values damages public discourse
Cloth – $33
978-0-252-02975-2
eBook – $19.95
978-0-252-09040-0
Publication Date
Cloth: 07/04/2005
About the Book
In
Democracy, Inc.,
David S. Allen exposes the vested interests behind the U.S. slide toward conflating corporate values with public and democratic values. He argues that rather than being institutional protectors of democratic principles, the press and law perversely contribute to the destruction of public discourse in the United States today.
Allen utilizes historical, philosophical, sociological, and legal sources to trace America's gradual embrace of corporate values. He argues that such values, including winning, efficiency, and profitability actually limit democratic involvement by devaluing discursive principles, creating an informed yet inactive public. Through an examination of professionalization in both the press and the law, corporate free speech rights, and free speech as property, Democracy, Inc. demonstrates that today's democracy is more about trying to control and manage citizens than giving them the freedom to participate. Allen not only calls on institutions to reform the way they understand and promote citizenship but also asks citizens to adopt a new ethic of public discourse that values understanding rather than winning.
About the Author
David S. Allen is a professor of journalism and mass communication at the University of Wisconsin, Milwaukee. He is the coeditor of Freeing the First Amendment: Critical Perspectives on Freedom of Expression.
Reviews
---
Blurbs
"From a master's hand, wall-to-wall argument not limited to the cranium but invigorating our conscience as well. This erudite book is destined for the classics, in the legacy of de Tocqueville's Democracy in America, John Dewey's The Public and Its Problems, and Hannah Arendt's The Human Condition. High-energy ideas on another order of magnitude, taking public life back from corporate ideology and re-creating it with discourse democracy instead."--Clifford G. Christians, author of Media Ethics and Global Justice in the Digital Age

"Democracy, Inc. is an important and illuminating book. In an approach entirely consistent with his theory, Allen presents a clearly reasoned argument in place of table-pounding denunciations of the corporatization of the press and law. He attributes the problems of democracy neither to conspiracies nor to unbridled greed, but to the structure of a particular brand of capitalism whose modes of support he clearly identifies in law, making clear the route to real reforms in the process."--Thomas Streeter, author of Selling the Air: A Critique of the Policy of Commercial Broadcasting in the United States
---