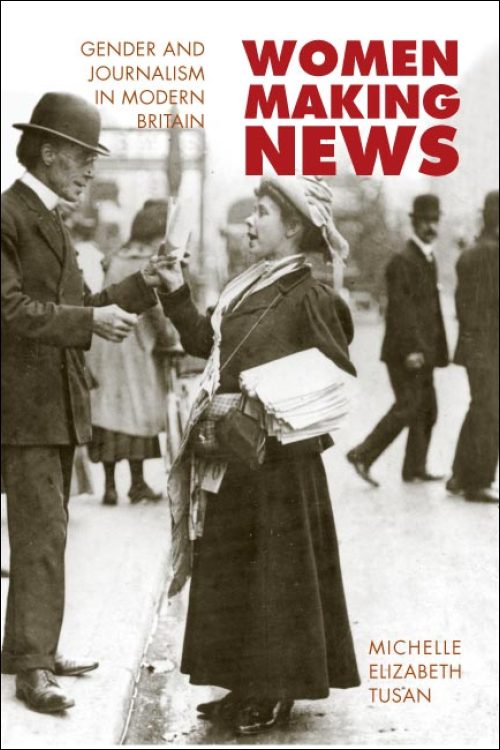 Women Making News
Gender and Journalism in Modern Britain
Women creating space for their own political voices in the press
Cloth – $49
978-0-252-03015-4
Publication Date
Cloth: 11/21/2005
About the Book
Starting in the mid-nineteenth century, female editors and journalists created a new genre of political journal they proclaimed to be both for and by women. Specialized periodicals like
Women's Penny Paper
and
Shafts
fostered the proliferation of diverse political agendas aimed at reimagining women's status in society. At the same time, the institutional infrastructure of the women's press provided women with job opportunities in a nontraditional field.
Michelle Tusan tells two stories. First, she examines alternative print-based political cultures that women developed during the late nineteenth and early twentieth centuries. Second, she explores how British female subjects forged a wide range of new political identities through the pages of "their press." Tusan employs social and cultural historical analysis in the reading of popular printed texts, as well as rare and previously unpublished personal correspondence and business records from archives throughout Britain.
Insightful and filled with fascinating detail, Women Making News uncovers how the relationship between print culture and gender politics provided a vehicle for women's mobilization in the political culture of modern Britain.
About the Author
Michelle Tusan is a professor of history at the University of Nevada, Las Vegas. Her books include The British Empire and the Armenian Genocide: Humanitarianism and Imperial Politics from Gladstone to Churchill.
Reviews
"[Tusan's] detailed treatment of the journals and a splendid appendix make this book an invaluable tool for researchers in British women's history. Tusan has done a real service to women's historians by writing such a thorough survey of the women's advocacy press. Those wishing to draw on women's periodicals in their research, and those wishing to historicize the journals they are working with already, will find Tusan's book an invaluable reference."--American Historical Review

"Women Making News offers a richly researched analysis that advances women's journalism history beyond fragmentary accounts of individual experience to place the women's advocacy press at center of the cultural and political emergence of the British woman citizen between 1856 and 1930. The most intellectually ambitious and creative book on women's journalism history that I can remember in the past decade."--JHistory
---