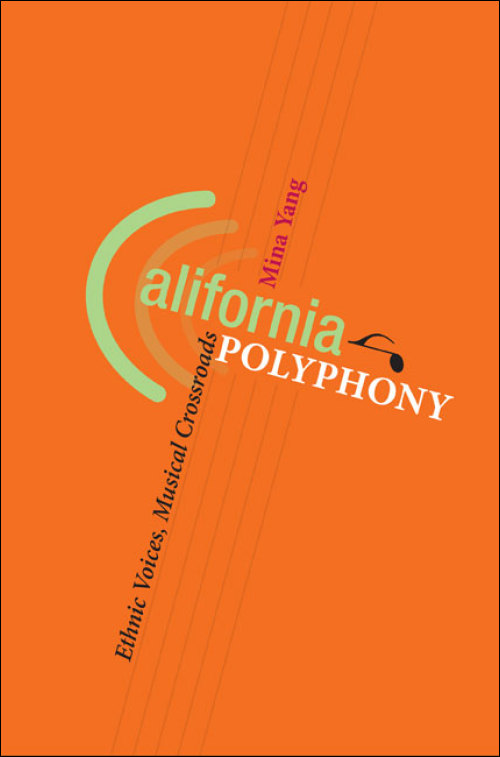 California Polyphony
Ethnic Voices, Musical Crossroads
Music's role in California identity from diverse perspectives
Cloth – $44
978-0-252-03243-1
eBook – $19.95
978-0-252-09297-8
Publication Date
Cloth: 03/31/2008
About the Book
What does it mean to be Californian? To find out, Mina Yang delves into multicultural nature of musics in the state that has launched musical and cultural trends for decades.
In the early twentieth century, an orientalist fascination with Asian music and culture dominated the popular imagination of white Californians and influenced their interactions with the Asian Other. Several decades later, tensions between the Los Angeles Police Department and the African American community made the thriving jazz and blues nightclub scene of 1940s Central Avenue a target for the LAPD's anti-vice crusade. The musical scores for Hollywood's noir films confirmed reactionary notions of the threat to white female sexuality in the face of black culture and urban corruption while Mexican Americans faced a conflicted assimilation into the white American mainstream. Finally, Korean Americans in the twenty-first century turned to hip-hop to express their cultural and national identities.
A compelling journey into the origins of musical identity, California Polyphony explores the intersection of musicology, cultural history, and politics to define Californian.
About the Author
Mina Yang is a professor of arts and humanities at the Minerva Schools at the Keck Graduate Institute. She is the author of Planet Beethoven: Classical Music at the Turn of the Millennium.
Reviews
"A fascinating and groundbreaking glimpse into a complicated musical geography."--
Journal of American History
"[A] compelling new study . . . Yang successfully demonstrates that many elements can and must be taken into account when addressing the formation of any modern musical identify."--
American Music Review
---
Blurbs
"Mina Yang offers a musical message of social hope without stepping back from fierce historical inequities. She shows how the meeting grounds and collisions marking California's racial landscape add up to far more than accidents. California Polyphony will sit on my bookshelf between Mike Davis's City of Quartz and George Lipsitz's Dangerous Crossroads."--Deborah Wong, author of Speak It Louder: Asian Americans Making Music

"A landscape of California's musical history that draws upon sociocultural and political forces that led to the creation, innovation, and appropriation of musical styles, genres, and forms. This welcome addition to music and cultural studies combines the musical contributions of African Americans, East Asian Americans, and Mexican Americans in a unique and refreshing way."--Cheryl L. Keyes, author of Rap Music and Street Consciousness
---