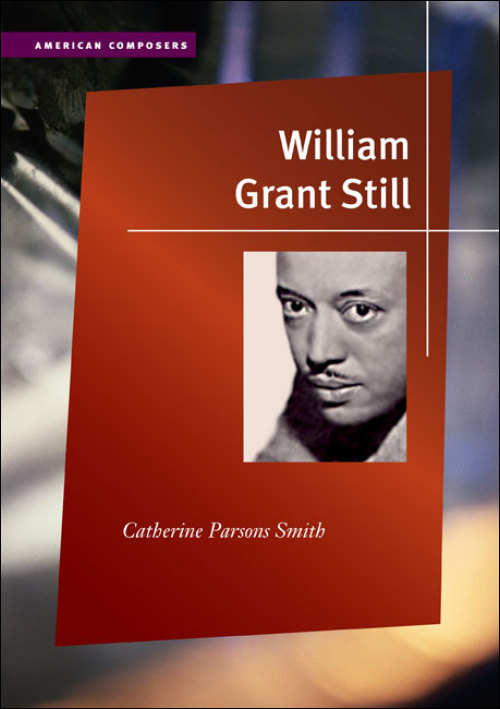 William Grant Still
A short biography of the celebrated African American composer
Cloth – $41
978-0-252-03322-3
Paper – $25
978-0-252-08704-2
Publication Date
Paperback: 07/12/2022
Cloth: 07/21/2008
About the Book
Once called the dean of African American composers, William Grant Still created a unique version of musical modernism that influenced commercial music, symphonic music, and opera. The acclaimed and enormously popular
Afro-American Symphony
, like many of his works, drew on Black American musical heritage, and Still was the first Black composer to have his work performed by a major symphony orchestra.
Catherine Parsons Smith's biography tracks the composer's interrelated careers in popular and concert music. Still's artistic journey took him from conservatory study with George W. Chadwick to collaborating with Langston Hughes, working as a commercial arranger and composer on Broadway and radio, arranging for artists like Sophie Tucker and Artie Shaw, and serving as the recording director for the first Black-owned record label. But despite his prolific production and multidimensional talents, Still endured financial struggles and declining attention to his work.
About the Author
Catherine Parsons Smith (1933-2009) was a professor emerita of music at the University of Nevada, Reno. She was the author of Making Music in Los Angeles: Transforming the Popular and William Grant Still: A Study in Contradiction.
Reviews
"This exemplary introduction to African American musician William Grant Still will appeal to both students and laypersons. . . . Recommended."--
Choice
---
Blurbs
"This book will be the standard work on William Grant Still for at least twenty years. Smith provides a brilliant narrative of Still's active career, his cooperation with Carl Van Vechten, and his prestige as an American composer. A useful introduction to Still's life, career, music, and sociological importance."--Wayne D. Shirley, emeritus senior music specialist, Library of Congress

"A superb general reference to the life and career of William Grant Still. Smith does an excellent job of placing the composer within the context of African American life of his day. She is at her best in narrating Still's professional career in New York, Boston, and Los Angeles."--Josephine Wright, editor of New Perspectives on Music: Essays in Honor of Eileen Southern
---