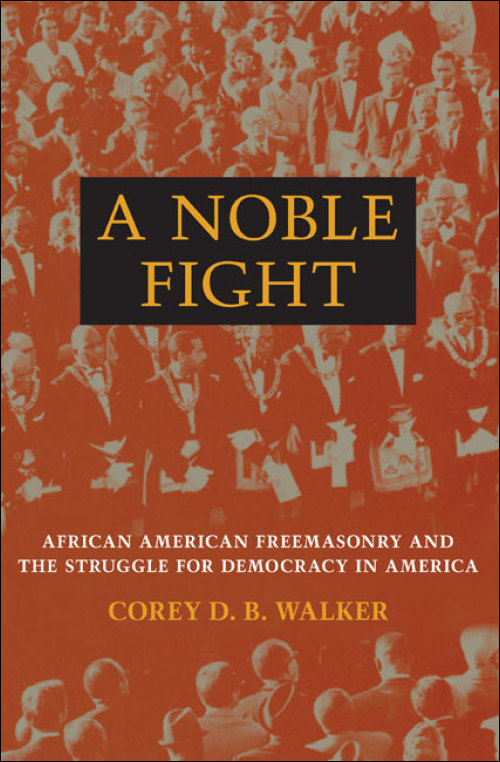 A Noble Fight
African American Freemasonry and the Struggle for Democracy in America
A critical investigation into the associational culture of African American freemasonry
Cloth – $49
978-0-252-03365-0
eBook – $19.95
978-0-252-09277-0
Publication Date
Cloth: 12/01/2008
About the Book
A Noble Fight
examines the metaphors and meanings behind the African American appropriation of the culture, ritual, and institution of freemasonry in navigating the contested terrain of American democracy. Combining cultural and political theory with extensive archival research--including the discovery of a rare collection of nineteenth-century records of an African American Freemason Lodge--Corey D. B. Walker provides an innovative perspective on American politics and society during the long transition from slavery to freedom.
With great care and detail, Walker argues that African American freemasonry provides a critical theoretical lens for understanding the distinctive ways African Americans have constructed a radically democratic political imaginary through racial solidarity and political nationalism, forcing us to reconsider much more circumspectly the complex relationship between voluntary associations and democratic politics.
Mapping the discursive logics of the language of freemasonry as a metaphoric rendering of American democracy, this study interrogates the concrete forms of an associational culture, revealing how paradoxical aspects of freemasonry such as secrecy and public association inform the production of particular ideas and expressions of democracy in America.
About the Author
Corey D. B. Walker is an assistant professor in the department of Africana Studies at Brown University.
Reviews
"Recommended."--
Choice
"An astounding reinterpretation of the roots of the black Masonic movement."--
The Journal of American History
"A valuable contribution to our understanding of the relationship between Masonic cultural and institutional forms and the struggle for democracy among African Americans."--
Journal of African American Studies
---
Blurbs
"This very important work is extraordinarily well researched, theoretically sophisticated, and well written. A major intervention and valuable contribution to the fields of Africana and American studies, cultural studies, and political theory."--Anthony Bogues, author of Black Heretics and Black Prophets: Radical Political Intellectuals

"Walker's attention to freemasonry expands the terrain of analysis of black civil society. His retelling of the story of the beginning of the association--foregrounding the black Atlantic context--recasts how scholars in the field think of the Masons and their place in African American history. Superb scholarship."--Eddie S. Glaude Jr., author of In a Shade of Blue: Pragmatism and the Politics of Black America
---