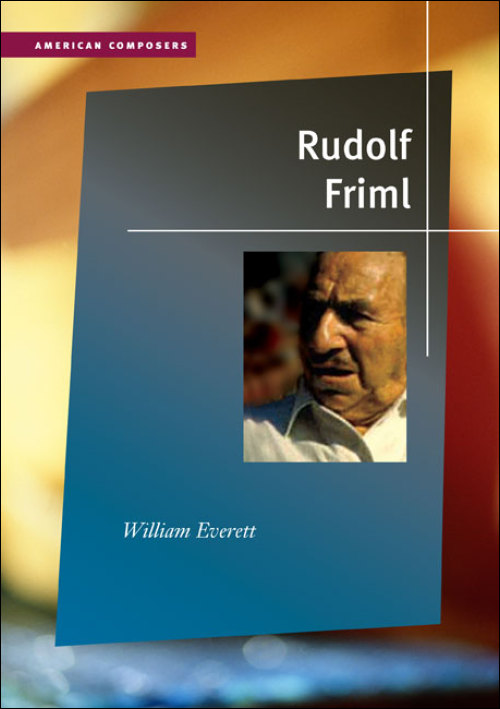 Rudolf Friml
The first book-length study devoted to Rudolf Friml's multifaceted musical legacy
Cloth – $39
978-0-252-03381-0
Publication Date
Cloth: 11/24/2008
About the Book
Rudolf Friml (1879-1972) is best remembered for his romantic 1920s operettas. Born in Prague, where he studied with Dvorak, Friml moved to the United States in 1906 and pursued a career as a concert pianist and composer. Beginning in 1912, he wrote music in different styles for Broadway, and in 1914, he joined Irving Berlin and Victor Herbert as charter members of the American Society of Composers, Authors and Publishers (ASCAP).
William Everett examines Friml's wide-ranging career within the larger historical contexts of the American operetta, the Indianist movement, Francophilia, Orientalism, and romantic nostalgia. Friml's gift for evoking faraway times and places led to works like Rose Marie, with its Canadian setting, while his use of formulaic Native American motifs produced "Totem Tom Tom" and the popular (and oft-parodied) "Indian Love Call." Friml also created music for films, often based on his popular musicals. Parallel to this stage and screen activity, he composed piano concertos, orchestral works, and piano pieces and songs.
About the Author
William Everett is associate professor of music history at the Conservatory of Music, University of Missouri-Kansas City. He is the author of Sigmund Romberg and coeditor of The Cambridge Companion to the Musical.
Reviews
"Insightfully restores a neglected star to the Broadway firmament."--
Studies in Musical Theatre
---
Blurbs
"Everett has written a thorough scholarly account of a major but now almost forgotten figure in twentieth-century musical theater. The book surveys his life and career, highlights key works, and reveals many ways in which Friml's legacy remains among us even today."--Jeffrey Magee, author of The Uncrowned King of Swing: Fletcher Henderson and Big Band Jazz

"William Everett's lucid and thorough exploration of the life and music of Rudolf Friml places this important Czech American composer squarely at the forefront of twentieth-century music theater, where he properly belongs. What a delight that this long-overdue volume is also so entertaining and informative. The scholarship is, in a word, sensational. Kudos to Everett for his timely, important, and indispensable addition to our American musical history."--Sara Davis Buechner, concert pianist and recording artist, Piano Music of Rudolf Friml
---