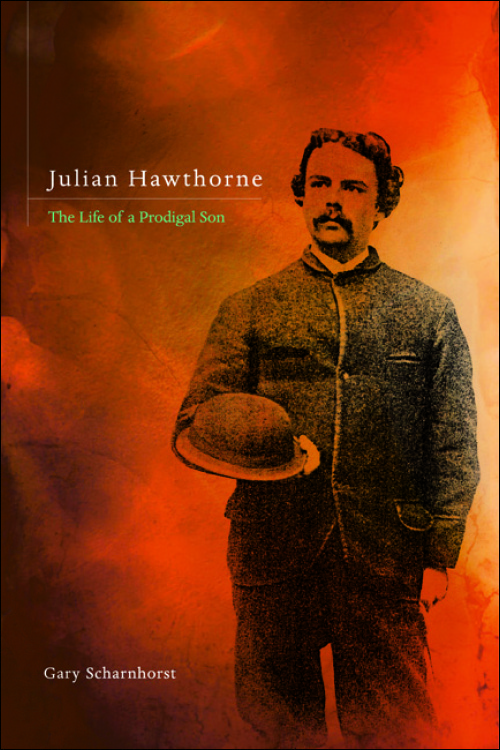 Julian Hawthorne
The Life of a Prodigal Son
The complicated life and profligate career of Nathaniel Hawthorne's only son, Julian
Cloth – $37
978-0-252-03834-1
eBook – $14.95
978-0-252-09621-1
Publication Date
Cloth: 04/21/2014
About the Book
Julian Hawthorne (1846-1934), Nathaniel Hawthorne's only son, lived a long and influential life marked by bad circumstances and worse choices. Raised among luminaries such as Thoreau, Emerson, and the Beecher family, Julian became a promising novelist in his twenties, but his writing soon devolved into mediocrity.
What talent the young Hawthorne had was spent chasing across the changing literary and publishing landscapes of the period in search of a paycheck. Julian was consistently short of funds because--as biographer Gary Scharnhorst is the first to reveal--he was supporting two households: his wife in one and a longtime mistress in the other.
Nathaniel Hawthorne's son was nothing if not resourceful. Using his father's name to open doors, his portfolio became a pastiche of potboilers, low-budget magazine pieces, and ad copy, as well as anything else that would help pay the bills.
The younger Hawthorne's name and work ethic gave him influence in spite of his haphazard writing. Julian helped to found Cosmopolitan and Collier's Weekly. When he was convicted of stock fraud, his four-month incarceration turned him into an effective advocate for prison reform. And, as a Hearst stringer, he covered some of the era's most important events: McKinley's assassination, the Galveston hurricane, and the Spanish-American War, among others.
When Julian died at age 87, he had written millions of words and more than 3,000 pieces, out-publishing his father by a ratio of twenty to one. Gary Scharnhorst, after his own long career including works on Mark Twain, Oscar Wilde, and other famous writers, became fascinated by the leaps and falls of Julian Hawthorne. This biography shows why.
Reviews
"Engaging and authoritative."--
Washington Post
"A 'must read.' Julian led a life stranger than fiction, and Scharnhorst, who writes with humor and an eye for detail, has offered a riveting account of the extraordinary events, pitfalls, and relationships that comprised his subject's life."--
The New England Quarterly
"In a superbly researched and engaging narrative, Gary Scharnhorst has pulled together all the facts of this fascinating if somewhat outrageous life. In sum, he has given us a keenly argued biography with a new angle on his famous father, who died when Julian was a teenager and who did not take much interest in his prodigal son."--
American Literary Realism
"This biography, in taking up Julian Hawthorne anew, aims to 'resurrect him from the footnote.' It has the potential to achieve this with its sharp profile of a once-prominent figure in American letters. That profile inevitably compels us to think about the peculiar, often precarious, social positions in which the children of cultural icons are put and/or put themselves. . . . Scharnhorst demonstrates how to write biography--not just to inform readers, but to pique their interest in its subject, or, title character."--
Rocky Mountain Review
"An intriguing portrait of a famous son who was an aristocrat, a hack, and a scrounge. Recommended."--
Choice
"Scharnhorst does more than just whet our appetite for the scandalous; he paints an elegant picture of a complex and contradictory man."--
Resources for American Literary Study
---
Blurbs
"Scharnhorst is one of the best-known and most respected bibliographers in the field of nineteenth-century American literature, and this biography is just what one would expect from a scholar of his skill and reputation. A valuable and highly readable contribution to the field, rich in surprising discoveries."--Thomas Mitchell, author of Hawthorne's Fuller Mystery
---