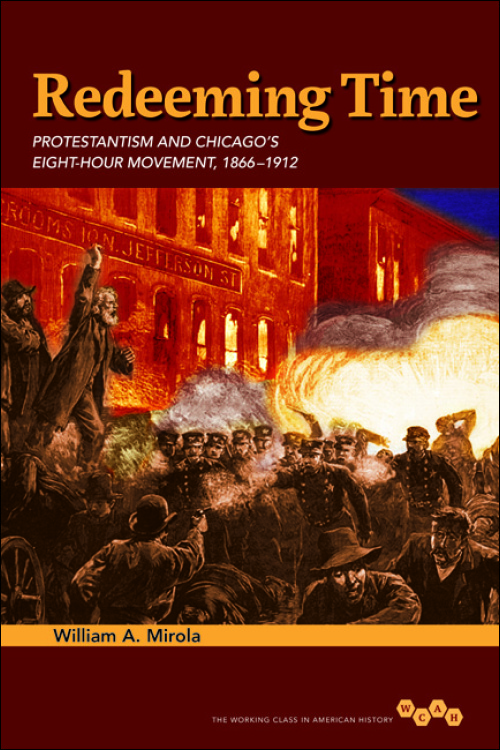 Redeeming Time
Protestantism and Chicago's Eight-Hour Movement, 1866-1912
The role clergy played and didn't play in one of organized labor's greatest victories
Cloth – $55
978-0-252-03883-9
eBook – $19.95
978-0-252-09679-2
Publication Date
Cloth: 01/05/2015
About the Book
During the struggle for the eight-hour workday and a shorter workweek, Chicago emerged as an important battleground for workers in "the entire civilized world" to redeem time from the workplace in order to devote it to education, civic duty, health, family, and leisure.
William A. Mirola explores how the city's eight-hour movement intersected with a Protestant religious culture that supported long hours to keep workers from idleness, intemperance, and secular leisure activities. Analyzing how both workers and clergy rewove working-class religious cultures and ideologies into strategic and rhetorical frames, Mirola shows how every faith-based appeal contested whose religious meanings would define labor conditions and conflicts. As he notes, the ongoing worker-employer tension transformed both how clergy spoke about the eight-hour movement and what they were willing to do, until intensified worker protest and employer intransigence spurred Protestant clergy to support the eight-hour movement even as political and economic arguments eclipsed religious framing.
A revealing study of an era and a cause, Redeeming Time illustrates the potential--and the limitations--of religious culture and religious leaders as forces in industrial reform.
About the Author
William A. Mirola is a professor of sociology at Marian University in Indianapolis. He is the coauthor of Religion Matters: What Sociology Teaches Us about Religion in Our World.
Reviews
"Mirola offers a clearly argued and well-researched piece of scholarship. . . . Valuable for understanding turn-of-the-century Chicago."--
H-Net Reviews
"A careful examination of alliance-building between labor activists and Protestant clergy. . . . Mirola does a fine job of keeping the perspectives of workers, clergy, and industrialists all in the mix--a balancing act that makes the book far more than a case study of the Social Gospel Movement."--
American Historical Review
"As a thorough analysis of rhetoric,
Redeeming Time
is superb. . . .
Redeeming Time
is an important addition to the rapidly growing historical conversation on religion and the working classes in the United States."--
Fides et Historia
"The fields of labor and religious history have converged in a new body of work that explores the spiritual dimensions of America's working people. William A. Mirola's
Redeeming Time
is an important and unique contribution to this emergent literature."--
The Journal of American History
"
Redeeming Time: Protestantism and Chicago's Eight-Hour Movement, 1866-1912
. . . departs from existing literature on religion and social movements by focusing on the potential risks and drawbacks of religious involvement in social movements."--
American Journal of Sociology
---
Blurbs
"Mirola creatively challenges what we thought we knew about religion's role in one of the most important dramas unfolding in the Gilded Age--the struggle to limit the workday. His theoretical approach to the uses of religious rhetoric should be required reading for students of reform."--Ken Fones-Wolf, author of Glass Towns: Industry, Labor, and Political Economy in Appalachia, 1890–1930s

"While much has been written about religious institutions and the labor movement the analysis has rarely been done critically and too often from an instrumental perspective. Redeeming Time: Protestantism and Chicago's Eight-Hour Movement, 1866-1912 however is the rare book that provides students of labor history a precise sense of how and why the church was reacting to worker struggles. In William A. Mirola's persuasive telling we realize that in the fight for the shorter work day the church never substantively tried to influence employers to humanize the work place. Instead it was economic, political, and mass worker resistance that accomplished what appeals to a Christian community could not."--Robert Bruno, author of Justified by Work: Identity and the Meaning of Faith in Chicago's Working-Class Churches
---