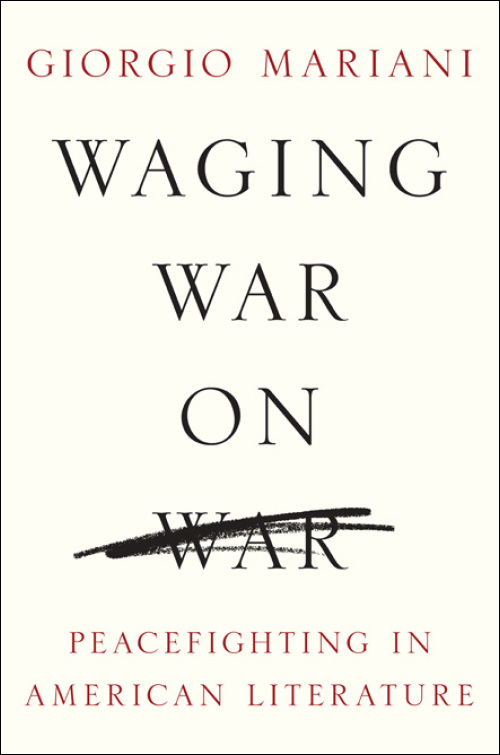 Waging War on War
Peacefighting in American Literature
The anti-war genre and its impact on American culture
Cloth – $55
978-0-252-03975-1
eBook – $19.95
978-0-252-09785-0
Publication Date
Cloth: 12/28/2015
About the Book
The notion that war plays a fundamental role in the United States' idea of itself obscures the rich--and by no means naïve--seam of anti-war thinking that winds through American culture. Non-violent resistance, far from being a philosophy of passive dreamers, instead embodies Ralph Waldo Emerson's belief that peace "can never be defended, never be executed, by cowards."
Giorgio Mariani rigorously engages with the essential question of what makes a text explicitly anti-war. Ranging from Emerson and Joel Barlow to Maxine Hong Kingston and Tim O'Brien, Waging War on War explores why sustained attempts at identifying the anti-war text's formal and philosophical features seem to always end at an impasse. Mariani moves a step beyond to construct a theoretical model that invites new inquiries into America's nonviolent, nonconformist tradition even as it challenges the ways we study U.S. warmaking and the cultural reactions to it. In the process, he shows how the ideal of nonviolence and a dislike of war have been significant, if nonhegemonic, features of American culture since the nation's early days.
Ambitious and nuanced, Waging War on War at last defines anti-war literature while exploring the genre's role in an assertive peacefighting project that offered--and still offers--alternatives to violence.
About the Author
Giorgio Mariani is a professor of American literature at the Sapienza University of Rome. He is the author of Spectacular Narratives: Representations of Class and War in Stephen Crane and American Popular Literature of the 1890s.
Reviews
"A rigorous examination of anti-war literature, and the result of decades of reading, writing and teaching."--
Times Literary Supplement
"The book's greatest strengths (of which there are many) are its contextualization of its multiple strands within a broader framework, and its repeated and concerted efforts to complicate and challenge both received truths and the very point it is putting forward in a dialectical approach that is both elliptical and absorbing."--
European Journal of American Studies
"Giorgio Mariani's
Waging War on War: Peacefighting in American Literature
is a lucid, comprehensive, and persuasive study of a topic of urgent academic and social concern."--
American Literary History
"Giorgio Mariani's
Waging War on War: Peacefighting in American Literature
is a theoretically informed, refreshingly innovative perspective on the understudied genre of anti-war literature." --
Leviathan: Journal of Melville Studies
"
Waging War on War
is a fascinating, learned, lively, and much-needed study of how different American writers and activists have imagined, defined, and fought for peace, even as they have gone to war or confronted the history of U.S. interventionism." --
IMPACT
---
Blurbs
"A rhetorical tour de force reminiscent of Kenneth Burke, Giorgio Mariani's Waging War on War transforms the paradoxical violence of U.S. 'anti-war literature' into an indispensable interpretive frame for reimagining the warmaking nation's literary history from Joel Barlow's Columbiad and Herman Melville's Moby-Dick to Maxine Hong Kingston's The Woman Warrior and Helen Benedict's Sand Queen."--Donald E. Pease, author of The New American Exceptionalism

"A significant step in changing how we write about and study U.S. wars, consolidating the increasing interest in intellectually rigorous, theoretically informed variants of peace studies. The close readings are thoughtful and embedded in rich critical and philosophical context."--James Dawes, author of Evil Men

"A timely, insightful, and eloquently argued treatment of the perennial topic of war and peace. One of the most brilliant Americanists from Rome, Mariani keenly examines the history of the Pax Americana through the intricacies of U.S. literature and its ambiguous, often ambivalent, relationship to the perpetual wars indispensable for empire and its hegemony. Mariani reads from the American canon and its critical corpus with lucidity, well-tempered analysis, and theoretical sophistication."--Djelal Kadir, Founding President, International American Studies Association

"This is a particularly stimulating group of texts, juxtaposing the canonical with the critically neglected. The writing is of a consistently high standard. The tone is forceful without being pompous, and the overall impression is of an appealing humanity."--Kate McLoughlin, author of Authoring War: The Literary Representation of War from the Iliad to Iraq
---