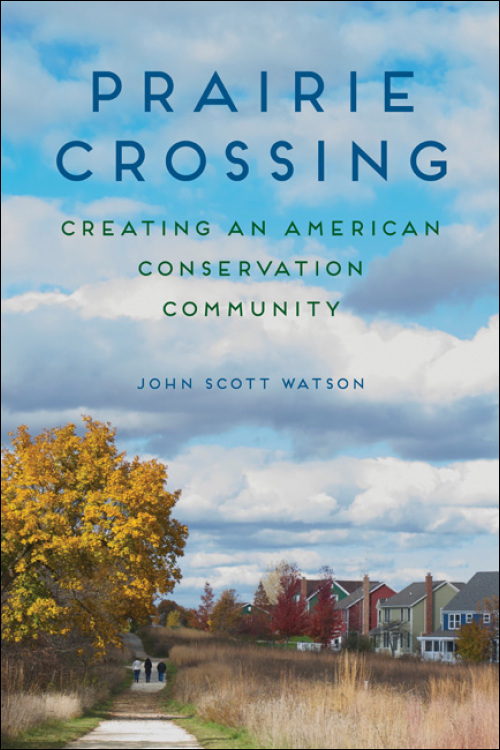 Prairie Crossing
Creating an American Conservation Community
The vision and the reality of returning nature to the suburbs
Cloth – $29.95
978-0-252-03986-7
eBook – $14.95
978-0-252-09797-3
Publication Date
Cloth: 02/29/2016
About the Book
Carved out of century-old farmland near Chicago, the Prairie Crossing development is a novel experiment in urban public policy that preserves 69 percent of the land as open space. The for-profit project has set out to do nothing less than use access to nature as a means to challenge America's failed culture of suburban sprawl.
The first comprehensive look at an American conservation community, Prairie Crossing goes beyond windmills and nest boxes to examine an effort to connect adults to the land while creating a healthy and humane setting for raising a new generation attuned to nature. John Scott Watson places Prairie Crossing within the wider context of suburban planning, revealing how two first-time developers implemented a visionary new land ethic that saved green space by building on it. The remarkable achievements include a high rate of resident civic participation, the reestablishment of a thriving prairie ecosystem, the reintroduction of endangered and threatened species, and improved water and air quality. Yet, as Watson shows, considerations like economic uncertainty, lack of racial and class diversity, and politics have challenged, and continue to challenge, Prairie Crossing and its residents.
About the Author
John Scott Watson is a lecturer in the political science department of the University of Illinois, Chicago.
Reviews
"According to political scientist John Scott Watson (University of Illinois at Chicago) in his new book
Prairie Crossing: Creating an American Conservation Community
, its developers, George and Vicky Ranney, are 'using the market to preserve and protect the environment from free-market excess'. . . . The question remains: Do conservation communities represent a niche market or a large-scale alternative to conventional suburbia? This book is a great place to start finding out." --
Planning
---
Blurbs
"A passionate view of what the author describes as the first conservation community."--Ann Durkin Keating, author of Chicago Neighborhoods and Suburbs: A Historical Guide

"Thought-provoking and conversation starting. Makes a novel contribution to our understanding of how and why suburbs grow under various sets of circumstances. It's a story worthy of sharing and provides important lessons for communities facing conditions of sprawl. Indeed, the author clearly demonstrates that there are viable alternatives to sprawl."--Thomas J. Vicino, coauthor of Cities and Suburbs: New Metropolitan Realities in the US
---