Casanova the Irresistible
Translated and with an Introduction by Armine Kotin Mortimer
The avant-garde gadfly reappraises Casanova's genius for living
Cloth – $36.95
978-0-252-03998-0
eBook – $14.95
978-0-252-09815-4
Publication Date
Cloth: 04/04/2016
About the Book
His is a name synonymous with seduction. His was a life lived without limits. Giacomo Casanova left behind thousands of pages detailing his years among Europe's notable and noble. In
Casanova the Irresistible
, Philippe Sollers--prolific intellectual and revered visionary of the French avant-garde--proffers a lively reading of and guide to the famed libertine's sprawling memoir.
Armine Kotin Mortimer's translation of Sollers's reading tracks the alluring Venetian through the whole of his astounding and disreputable life. Eschewing myth, Sollers dares to present the plain realities of a man "simple, direct, courageous, cultivated, seductive, funny. A philosopher in action." The lovers are here, and the ruses and adventures. But Sollers also rescues Casanova the writer, a gifted composer of words who reigns as a titan of eighteenth-century literature. As always, Sollers seeks to shame society for its failure to recognize its failings. By admiring those of Casanova's admirable qualities present in himself, Sollers spurns bourgeois hypocrisy and cliché to affirm a jocund philosophy of life devoted to the twinned pursuits of pleasure and joy.
A masterful translation that captures Sollers's idiosyncratic style, Casanova the Irresistible escorts readers on a journey into the heads and hearts of two singular personalities.
About the Author
Philippe Sollers
is a biographer, novelist, editor, critic, and cofounder of the journal
Tel Quel
. His works include
Mysterious Mozart
and
Women
. Armine Kotin Mortimer is a professor emerita of French at the University of Illinois, Urbana. She is the author of
Writing Realism: Representations in French Literature
and
For Love or for Money: Balzac's Rhetorical Realism
.
---
Also by this author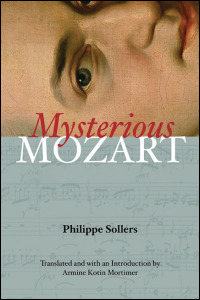 Reviews
---
Blurbs
Praise for the French edition:

"Sollers wants his hero to shock us still, challenge our orthodoxies, scoff at our timidity and political correctness. A very readable, often perceptive response to the Histoire de ma vie which consciously sets out to tell us about our own prejudices and preoccupations as much as those of his subject."--Times Literary Supplement

"Our thanks to Philippe Sollers for having restored to us an ungraspable and unpredictable Casanova."--Le Nouvel Observateur

"Fills a gap between the less accessible scholarly studies and the popular, often inaccurate, literature on Casanova. If this territory has already been well-traveled, a new perspective and innovative approach make it seem fresh and appealing."--Eighteenth Century Studies

"A compelling read and an opportunity to reflect on the mix of genius and celebrity that certainly defines the greatest of literary and theatrical personalities of our own as well as times past. The overall translation is superb."--Clorinda Donato, coeditor of Discourses of Tolerance and Intolerance in the European Enlightenment
---