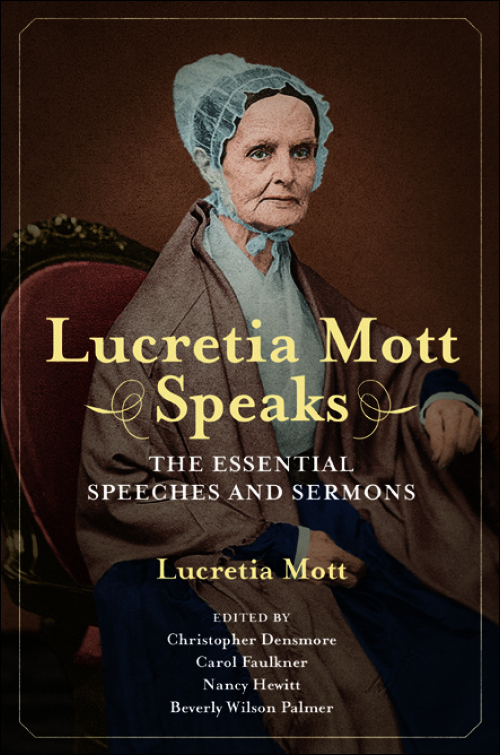 Lucretia Mott Speaks
The Essential Speeches and Sermons
An invaluable collection of the iconic reformer's words and works
Cloth – $125
978-0-252-04079-5
Paper – $30
978-0-252-08555-8
eBook – $19.95
978-0-252-09925-0
Publication Date
Paperback: 09/14/2020
About the Book
Committed abolitionist, controversial Quaker minister, tireless pacifist, fiery crusader for women's rights--Lucretia Mott was one of the great reformers in American history. Her sixty years of sermons and speeches reached untold thousands of people. Yet Mott eschewed prepared lectures in favor of an extemporaneous speaking style inspired by the inner light at the core of her Quaker faith. It was left to stenographers, journalists, Friends, and colleagues to record her words for posterity.
Drawing on widely scattered archives, newspaper accounts, and other sources, Lucretia Mott Speaks unearths the essential speeches and remarks from Mott's remarkable career. The editors have chosen selections representing important themes and events in her public life. Extensive annotations provide vibrant context and show Mott's engagement with allies and opponents. The speeches illuminate her passionate belief that her many causes were all intertwined. The result is an authoritative resource, one that enriches our understanding of Mott's views, rhetorical strategies, and still-powerful influence on American society.
About the Author
Lucretia Mott (1793–1880) was a prominent reformer who agitated against slavery and co-organized the 1848 Seneca Falls convention. Christopher Densmore is the curator of the Friends Historical Library at Swarthmore College and the author of Red Jacket: Iroquois Diplomat and Orator. Carol Faulkner is a professor of history at Syracuse University and the author of Lucretia Mott's Heresy: Abolition and Women's Rights in Nineteenth-Century America. Nancy Hewitt is Distinguished Professor Emerita of History and Women's and Gender Studies at Rutgers University. Her books include Women's Activism and Social Change: Rochester, New York, 1822-1872. Beverly Wilson Palmer is a research associate at Pomona College and the editor or coeditor of numerous documentary editions, including Selected Letters of Lucretia Coffin Mott.
Reviews
"Highly recommended."--
Choice
"For those who want to delve deeply into the thinking of Lucretia Mott, this book offers an excellent look into her interrelated causes."--
Friends Journal
"This book lays excellent groundwork for much-needed scholarship. . . . General readers will be pleasantly surprised to find a lively, spirited, radical, complex woman who defies common stereotypes." --
Quaker Studies
"Many of the most evocative and informative entries in this collection are not ones Mott polished and edited for publication, but accounts of her words paraphrased or hurriedly recorded by reporters and scribes. Newspaper reports, in particular, contain vivid descriptions of her demeanour and manner of speaking, and the effect that she had on others in the room. Her impact was enormous." --
Journal of Ecclesiastical History
---
Blurbs
"Eye-opening and invigorating. The editors have, quite sensibly, employed a light editorial hand, preferring to let Mott's speeches take center stage, and to let Mott herself stand in the spotlight. This is a wonderful collection."--Anne Boylan, author of Women's Rights in the United States: A History in Documents

"This superb and authoritative collection of speeches and sermons of radical activist and renowned orator Lucretia Mott conveys the breadth and depth of Mott's visionary leadership in abolition, women's rights, religious and political reform, and education and peace."--Ellen Ross, author of The Grief of God: Images of the Suffering Jesus in Late Medieval England
---