The Cashaway Psalmody
Transatlantic Religion and Music in Colonial Carolina
Reviving spirit and music from the pages of a once-lost text
Cloth – $65
978-0-252-04284-3
eBook – $19.95
978-0-252-05170-8
Publication Date
Cloth: 01/27/2020
About the Book
Singing master Durham Hills created
The Cashaway Psalmody
to give as a wedding present in 1770. A collection of tenor melody parts for 152 tunes and sixty-three texts, the
Psalmody
is the only surviving tunebook from the colonial-era South and one of the oldest sacred music manuscripts from the Carolinas. It is all the more remarkable for its sophistication: no similar document of the period matches Hills's level of musical expertise, reportorial reach, and calligraphic skill.
Stephen A. Marini, discoverer of The Cashaway Psalmody, offers the fascinating story of the tunebook and its many meanings. From its musical, literary, and religious origins in England, he moves on to the life of Durham Hills; how Carolina communities used the book; and the Psalmody's significance in understanding how ritual song—transmitted via transatlantic music, lyrics, and sacred singing—shaped the era's development. Marini also uses close musical and textual analyses to provide a critical study that offers music historians and musicologists valuable insights on the Pslamody and its period.
Meticulous in presentation and interdisciplinary in scope, The Cashaway Psalmody unlocks an important source for understanding life in the Lower South in the eighteenth century.
* Publication of this book was supported by the Lloyd Hibberd Endowment of the American Musicological Society, funded in part by the National Endowment for the Humanities and the Andrew W. Mellon Foundation.
About the Author
Stephen A. Marini
is the Elisabeth Luce Moore Professor of Christian Studies and a professor of American religion and ethics at Wellesley College. He is the author of
Sacred Song in America: Religion, Music, and Public Culture
and contributing editor for sacred music for
The Grove Dictionary of American Music
, second edition, and singing-master of Norumbega Harmony, a choral ensemble specializing in eighteenth-century Anglo-American psalmody.
---
Also by this author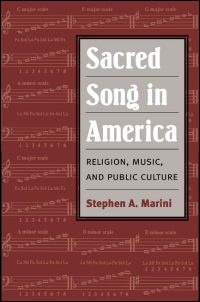 Reviews
---
Blurbs
"Offering a microhistory of meticulous precision, Marini forges through it a study of broad interdisciplinary scope, a rare synthesizing perspective on the musical, religious, commercial, and educational cultures of the eighteenth-century colonies. I know of no one else in the field who could have pulled off this feat the way Marini has—an exceptional combination of indefatigable archival research with practiced musical expertise."--Leigh Eric Schmidt, author of Restless Souls: The Making of American Spirituality

"Stephen Marini's careful research into an extraordinary eighteenth-century tunemaster and the extraordinary collection of texts and music he gathered into the Cashaway psalter has resulted in an extraordinary book. Tight focus on this one manuscript-musical object yields a rich harvest of insight on transatlantic cultural exchange, unexpected cooperation among churches, the economics of artistic production, and (most of all) the absolutely central place of singing in early American history. It is a rich and rewarding study."--Mark Noll, author of A History of Christianity in the United States and Canada, second edition
---