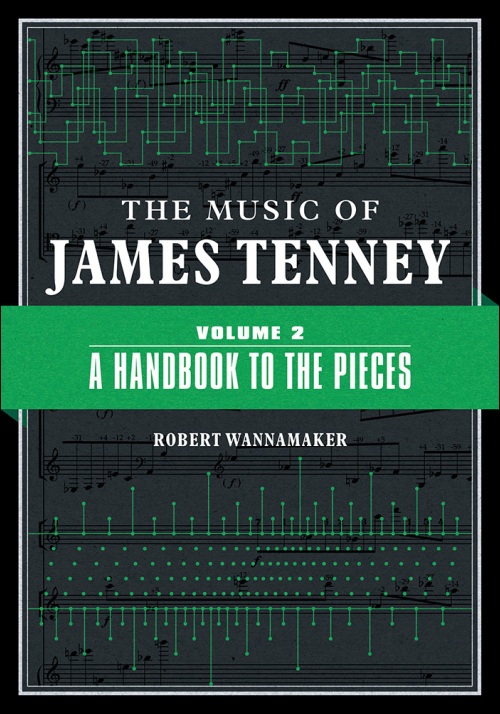 The Music of James Tenney
Volume 2: A Handbook to the Pieces
A work-by-work guide to the composer's groundbreaking music
Cloth – $75
978-0-252-04368-0
eBook – $19.95
978-0-252-05257-6
Publication Date
Cloth: 12/28/2021
About the Book
Robert Wannamaker's monumental two-volume study explores the influential music and ideas of American composer, theorist, writer, performer, and educator James Tenney. Delving into the whole of Tenney's far-ranging oeuvre, Wannamaker offers close, aurally grounded analyses of works linked to the artist's revolutionary theories of musical form, timbre, and harmonic perception.
Written as a reference work, volume 2, A Handbook to the Pieces, presents detailed entries on Tenney's significant post-1959 experimental works (excepting pieces covered in volume 1). Wannamaker includes technical information, an analysis of intentions and goals, graphs and musical examples, historical and biographical context, and thoughts from Tenney and others on specific works. Throughout, he discusses the striking compositional ideas found in Tenney's music and, where appropriate, traces an idea's appearance from one piece to the next to reveal the evolution of the composer's art and thought.
A landmark in experimental music scholarship, The Music of James Tenney is a first-of-its-kind consideration of the music titan and his work.
* Publication supported by grants from the AMS 75 PAYS Endowment of the American Musicological Society, supported in part by the National Endowment for the Humanities and the Andrew W. Mellon Foundation; the Henry and Edna Binkele Classical Music Fund; and the California Institute for the Arts.
Reviews
---
Blurbs
"An astonishing book, a virtual encyclopedia of James Tenney that threatens to leave no remaining scope for further scholarly work on his music. It answered many questions I've long had about Tenney's music, and has already acted as a spur to my own work. The amount of information one could currently find on Tenney's work would comprise only a small fraction of what is included here."--Kyle Gann, author of The Arithmetic of Listening: Tuning Theory and History for the Impractical Musician

"Wannamaker's essential, extraordinary work on the music of James Tenney is a brilliantly detailed and exhaustively researched addition to our comprehensive understanding of Tenney's music and compositional ideas, and to our conception of music of the second half of the twentieth century."--Larry Polansky, Emeritus Strauss Professor of Music, Dartmouth College
---