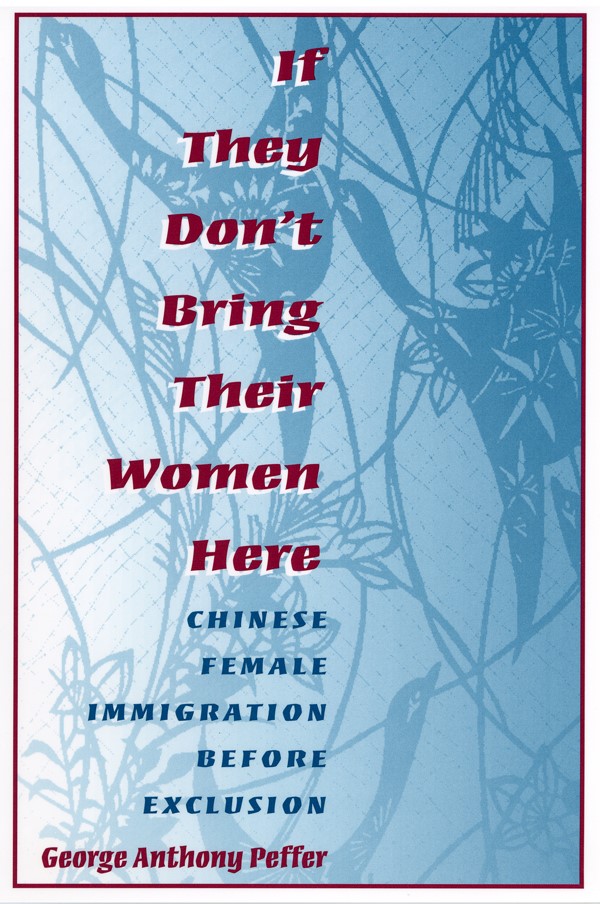 If They Don't Bring Their Women Here
Chinese Female Immigration before Exclusion
Foreword by Roger Daniels
A pioneering reconsideration of the Page Law's effect on Chinese immigrant women
Paper – $24
978-0-252-06777-8
Publication Date
Cloth: 01/01/1999
About the Book
Seven years before the Chinese Exclusion Act of 1882, the Page Law sought to stem the tide of Chinese prostitutes entering the United States. Yet during these seven years, it was not just prostitutes but all Chinese females who encountered at best hostility and at worst expulsion when they reached the "Golden Door."
George Anthony Peffer looks at enforcement of immigration laws to provide the first detailed account of Chinese American women's lives in the pre-exclusion era. Peffer documents the habeas corpus trials in which the wives and daughters of Chinese laborers were required to prove their status as legal immigrants or return to China. He also surveys the virulently anti-Chinese coverage of these trials and the issue of Chinese immigration received in California newspapers, confirming that Chinatown's prostitution industry so dominated the popular imagination as to render other classes of female immigrants all but invisible.
Insightful and groundbreaking, If They Don't Bring Their Women Here amplifies the voices of Chinese immigrant women and establishes a place for them within the historiographic framework of Chinese American studies.
About the Author
George Anthony Peffer is an assistant professor of history at Lakeland College.
Reviews
"Peffer convincingly argues that the Page Law helped perpetuate the gender imbalance in the Chinese American population for another century and consequently led to a socially dysfunctional ethnic society. This book will encourage people to reconceptualize the periods of Chinese immigration and reinterpret Chinese American experiences."--
New Mexico Historical Review
"Individual chapters provide excellent examples of this [discriminatory] behavior among the ranks of Hong Kong consuls and San Francisco authorities. Peffer's work joins a number of recent studies in enhancing understanding of the historically negative American reaction to Asians."--
Choice
---
Blurbs
"Peffer successfully challenges stereotypes that have been the foundation of Chinese American studies."—Sue Fawn Chung, author of The Silver Mountain: A History of the Chinese in Nevada
---