Ancient Records of Egypt
vol. 2: The Eighteenth Dynasty
Paper – $33
978-0-252-06974-1
Publication Date
Paperback: 01/01/2001
About the Book
This volume extends Breasted's remarkable documentary history through the reign of King Tutankhamun. By providing the first definitive transcription and the first English version of hundreds of historical records inscribed on papyrus or leather or carved in stone, Breasted gave unprecedented access to details of royal succession, military conquest, religious upheaval, administrative complexity, and other aspects of ancient Egyptian civilization. Originally published in the first decade of the twentieth century, his monumental work appears here in paperback for the first time.
The Eighteenth Dynasty saw the consolidation of the cult of Amun and the expansion of the temple of Amun-Re at Karnak, as well as a religious revolution under King Akhenaten that involved abandoning Thebes as a religious capital and royal residence and founding a new city devoted to the service of the new solar god, Aten. Breasted presents records of the biography and coronation of Queen Hatshepsut, including reliefs that depict the queen's expedition to the land of Punt. Also in this volume are the annals of Thutmose III, providing the most complete account of the military achievements of any Egyptian king; scenes representing the supernatural birth and coronation by the gods of his son, Amenhotep II; and inscriptions from the tomb of Rekhmire, prime minister or vizier under Thutmose III, that include a listing of taxes paid to the temple and foreign tribute proceeding from the king's two decades of military activity in Asia.
A herculean assemblage of primary documents, many of which have deteriorated to illegibility since its original publication, Ancient Records of Egypt illuminates both the incredible complexity of Egyptian society and the almost insuperable difficulties of reconstructing a lost civilization.
About the Author
James Henry Breasted
(1865-1935), the first American scholar to hold a professorship in Egyptology, was the author of
The Battle of Kadesh, A History of Egypt, Development of Religion and Thought in Ancient Egypt, Ancient Times: A History of the Early World, and The Conquest of Civilization. Peter A. Piccione is an Egyptologist and professor of comparative ancient history at the University of Charleston, South Carolina, and director of the University of Charleston Serapis Research Institute Theban Tombs Publication Project.
---
Also by this author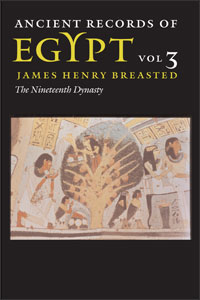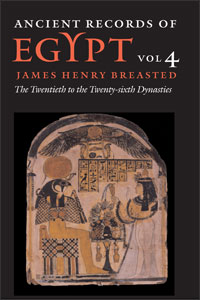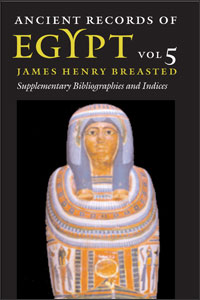 ---