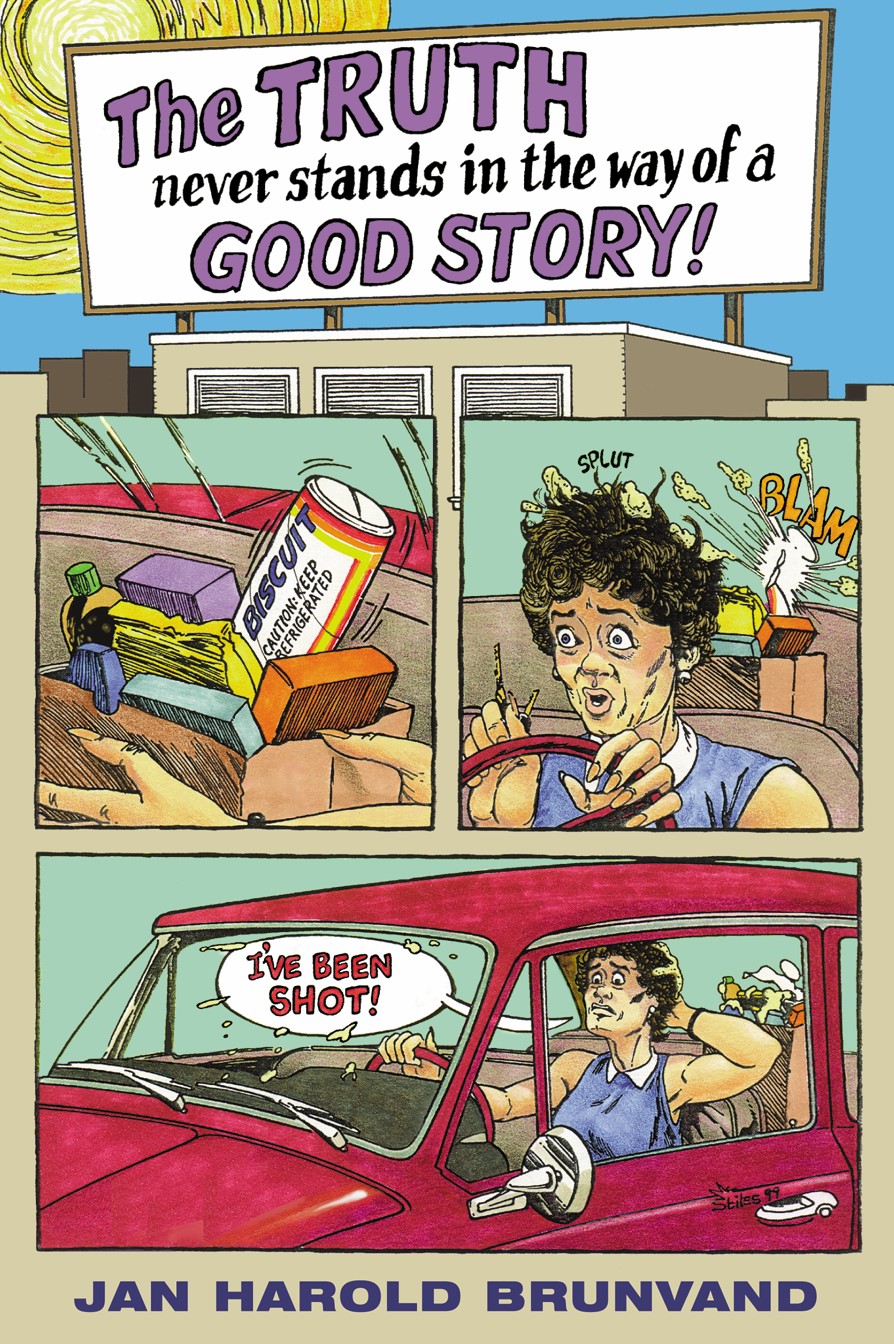 The Truth Never Stands in the Way of a Good Story
Don't believe everything you hear
Paper – $23
978-0-252-07004-4
Publication Date
Paperback: 01/01/2001
About the Book
"My sister's boyfriend knows a family who . . .""One of my wife's colleagues has a friend who knows someone who . . .""This is a true story that was forwarded to me by. . .""This is not a joke!"In this lively and engaging book, the nation's foremost expert on urban legends explores the spontaneous germination of these bizarre yet plausible narratives that play on the absurdities and prey on the fears of modern life.
Through voluminous correspondence from readers of his books and syndicated newspaper column, Jan Harold Brunvand has become something of a clearinghouse for evolving versions of urban legends. Here he looks in detail at a dozen rampant and long-lived examples of this vigorous category of contemporary folklore, tracing their histories, variations, sources, and meanings.
Brunvand tracks the various permutations–by fax, by e-mail, by newspaper, by word of mouth--of such legends as "The Red Velvet Cake," "The Brain Drain," and "The Baby Roast." He points out their common elements--notably, their insistence on the truth of the story and their attribution to a "friend of a friend." His son Erik Brunvand, an associate professor of computer science at the University of Utah, contributes his own view of computer hacker legends traded across the Internet.
Captivating and thought-provoking, The Truth Never Stands in the Way of a Good Story pins down the qualities that give urban legends their air of authenticity and make them hard to believe yet impossible to dismiss. For those interested in popular culture and current events as well as those wary of being taken in by false information, Brunvand's book reinforces his most basic piece of advice: "Don't believe everything you hear."
About the Author
Jan Harold Brunvand, is professor emeritus of English specializing in folklore at the University of Utah. He is the author of numerous books, including The Baby Train and Other Lusty Urban Legends and Too Good to Be True: The Colossal Book of Urban Legends.
Reviews
"An in-depth exploration of urban legends. . . . [Brunvand] has made a career of collecting, analyzing, and cataloguing these legends, from stories of alligators in the sewers to tales of spider-egg-infested bubble gum."--
The New Yorker
"Urban legends can travel by word of mouth or by print, and lately the Internet has become a prime vehicle for dissemination. . . . However they are spread, Mr. Brunvand says, they all share some characteristics. The 'insistence on the truth of the story, the attribution to specific friends of friends, the age of the story and (most of all) the variations in details among the different versions are all hallmarks of the modern urban legend.''"--
New York Times
"Is it true that a penny dropped from the Empire State Building would make a dent in the pavement? That bath water runs out in opposite directions in different hemispheres, due to the Coriolis effect? That Post-it notes were invented by accident? Who could put their hand on their heart and claim they knew all along that 'Thomas Crapper invented the flush toilet' was false, but that 'military planes are tested by firing chickens at them from a special cannon' was true? . . . [Brunvand], a slightly reluctant global 'expert' on the [urban legends] phenomenon . . . continues his series of mildly jocular academic studies of oral repetition and variation."--Mike Jay,
Times Literary Supplement
"Folklore professor Brunvand has delivered another sprightly study of urban folklales. This time around, Brunvand tracks the various versions of such legends as 'The Red Velvet Cake" (one variation is the Mrs. Fields Cookies recipe story), 'The Exploding Toilet' (Dave Barry should find this chapter interesting) and 'Lights Out!' (a false gang-initiation story spread by fax. . . . The work is delightfully up-to-date." --
Today's Librarian
"Brunvand, the unchallenged master of narratives that incorporate the absurdities and fears of modern urban life, adds another tome to his impressive collections of urban tales and humor. Along with more esoteric entries, familiar nuggets of oral fiction are included, such as title pieces from 'The Mexican Pet' and "The Vanishing Hitchhiker.' . . . Well crafted and riveting."--
Library Journal
"The nation's foremost expert on urban legends here explores the spontaneous germination of these bizarre yet plausible narratives that play on the fears and absurdities of modern life."--
Skeptical Inquirer
---
Blurbs
"Brunvand has the ability to be both scholarly and charming at the same time. This is his best legend book since The Vanishing Hitchhiker."--Patricia A. Turner, author of I Heard It through the Grapevine: Rumor in African-American Culture

"Urban legends cut through society in countless ways, and tracing their history is a daunting task that only an experienced scholar-adventurer like Jan Brunvand can handle. In his latest work, he guides the reader through many examples of how old forms of folklore leap with ease into the world of international travel and communication, and even into the realm of cyberspace."--Bill Ellis, president of the International Society for Contemporary Legend Research


---