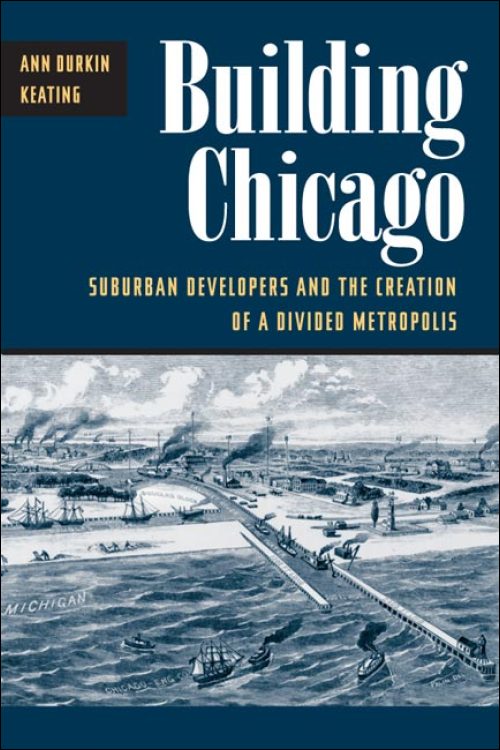 Building Chicago
Suburban Developers and the Creation of a Divided Metropolis
Paper – $19
978-0-252-07055-6
Publication Date
Paperback: 01/01/2002
About the Book
The modern suburbanite lives among manicured lawns, shopping centers, and public schools with private school reputations. Socially and economically dependent on the city, but autonomously governed, suburban life ostensibly offers the best of both worlds. In
Building Chicago
, Ann Durkin Keating offers a fascinating account of the birth and growth of Chicago's suburbs, the governments that developed to service them, and the ideas that guided early urban development.Chicago's rapid growth in the mid-nineteenth century was countered by cholera outbreaks, swampy roads, and poor living conditions. With the advent of rail transportation, city workers began to flock to burgeoning settlements outlying the city center. Various types of suburbs emerged, some as ethnic enclaves, others based on social and economic class. As they expanded, so did the need for schools, fire and police departments, water and sewer systems, and consequently, government. In the nineteenth century, nascent Cook County suburbs had just two options for government: the urban charter or the rural township.
Beginning in the 1860s, the Illinois state legislature allowed rural townships, as well as distinct settlements beyond Chicago, to add to their local powers through incorporation. Hybrids of rural and urban forms resulted in the first suburban governments. The incorporated townships, which ringed Chicago by the early 1880s, had a diverse range of constituents and proved unsuccessful as a suburban form. They were largely annexed to Chicago in 1889. The incorporated village emerged as the basic form of suburban government that would flourish in the twentieth century.
With precision and striking detail, Keating documents the progress and failure of suburbs under their chosen governments and argues that Chicago, as a case study, is representative of the suburban landscapes of major metropolitan areas across the country. In its first paperback edition, Building Chicago includes a comprehensive photographic essay by the author.
Reviews
"A painstakingly researched and skillfully presented history of Chicago's various suburbs, ranging from their mid-nineteenth century origins as a means to escape cholera outbreaks to their post World War II proliferation, down to the present day. A candid, accessible account filled with technical details, legal tug-of-war, and an often-overlooked piece of history about one of America's most famous cities." -- Midwest Book Review
---