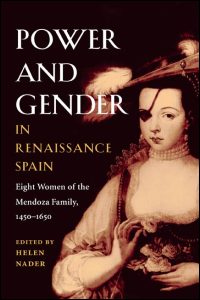 Power and Gender in Renaissance Spain
Eight Women of the Mendoza Family, 1450-1650
Powerful/influential women who provided positive role models without opposition from males are not an invention of twentieth-century feminism but also existed in times past.
Paper – $25
978-0-252-07145-4
Publication Date: December 2004
About the Book
The Mendoza family was one of Spain's most prominent Renaissance dynasties, and this collection, a groundbreaking overview of two hundred years of Spanish history, provides in-depth portraits of eight of its female members.
These essays explore the lives of powerful women whose lineage gave them status within a patriarchal society designed to keep women from public life. Each of the influential and literary women discussed in this volume handled her status differently, and their concerns were not dissimilar from the concerns of feminists today: the blurring of the personal and the political, public versus private space, language and voice, and property.
Spanning the two centuries between Juana Pimentel, a widow who manipulated the patronage system to her own ends, and Luisa de Carvajal y Mendoza, who rejected both convent and marriage in favor of missionary work, Power and Gender in Renaissance Spain reveals a complex society in which women were limited by law, and yet their social status made those laws negotiable.
These women found that their personal agendas had a broad societal impact, challenging the laws of the land and patriarchal assumptions about women's inferiority.
Reviews
"No other scholarly work has attempted to address the significance of a whole panoply of women from a single noble family. This groundbreaking work makes a very important contribution to our understanding of patriarchy and women's agency in the past."–-Mary Elizabeth Perry, author of
Gender and Disorder in Early Modern Seville
"...this compelling and important new book is certain to be controversial and as such, it should be essential reading for scholars wishing to better understand the complex dynamics of men and women..."-- Renaissance Quarterly
"Power and Gender in Renaissance Spain expands our knowledge of women's history by demonstrating the profound influence that women had on political decision-making during the rise of the Spanish nation. Nader has compiled an outstanding collection of essays that recount the life stories of eight women who belonged to one of the most influential and wealthy families of the early modern period. . . . This is one of the few essay collections I have read in which the contributions are uniformly strong."-- CLIO
"Power and Gender in Renaissance Spain is an outstanding book. The essays are meticulously researched, and the genealogical appendices are invaluable. This collection should be of obvious interest to Hispanists, but it deserves wider readership. Scholars of gender in the early modern period, particularly those with an interest in religious culture, politics, and literary culture, should read this book regardless of their primary field of study."--Sixteenth Century Journal
"...[an] enlightening and highly readable volume..."--American Historical Review
---