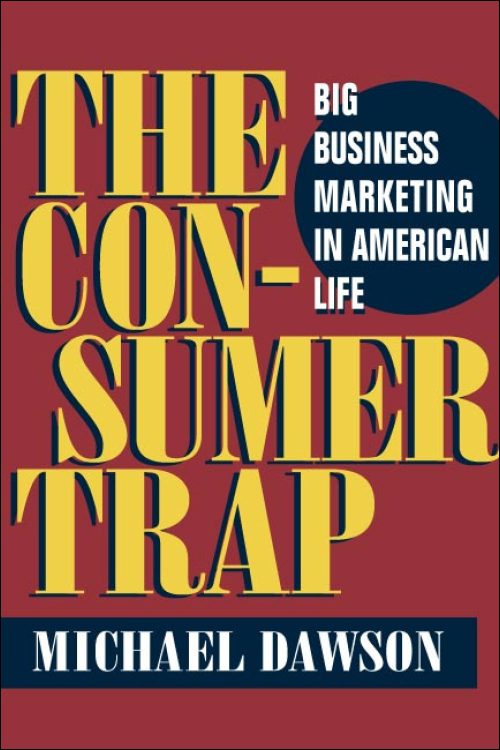 The Consumer Trap
Big Business Marketing in American Life
The costs of the American way of life and what we can do about it
Paper – $28
978-0-252-07264-2
Publication Date
Paperback: 01/01/2005
About the Book
The Consumer Trap
blows the lid off the ways the trillion-dollar-a-year business marketing industry soaks up economic and environmental resources and dominates the personal lives of citizens. Flouting conventional mainstream and radical thinking about consumer culture, Michael Dawson reveals how corporate marketing embodies and extends into personal life the scientific management principles famously enunciated by Frederick Winslow Taylor, whose earliest disciples predicted the big business marketing revolution.
Corporate capitalism fuels an ever-increasing marketing race, and Dawson's step-by-step account shows how the marketing behemoth works and expands. His analysis illuminates how big business marketing campaigns penetrate and profoundly affect the lives of ordinary Americans. Dawson argues that if people are to escape the costly consumer trap set by the overclass, they must renew class struggle from below, inventing new institutions for democratic governing and the implementation of major economic decisions.
About the Author
Michael Dawson is a professor of sociology at Portland State University and publisher of the blog The Consumer Trap.
Reviews
---
Blurbs
"Big Brother is alive and well and working for Madison Avenue. Michael Dawson tells us what the media won't, how Big Business brainwashes citizens into consumers and undermines democracy. Everyone who fears the Thought Police should read this brilliant exposé."--John Stauber, coauthor of Toxic Sludge Is Good for You: Lies, Damn Lies, and the Public Relations Industry

"Michael Dawson's meticulous and illuminating research into marketing theory and practice lays bare some of the most important developments of the twentieth century: the ways in which the sophisticated and self-conscious 'class coercion' designed by and for business leaders passed beyond meticulous management of the workplace to 'manipulating people's off-the-job perceptions and actions.' The goal is to ensure, as far as possible, that the lives of the 'underlying population' (in Veblen's phrase) will be in the hands of the masters of the highly concentrated private economy. Dawson adds new insights to expose still further the mythology of 'consumer sovereignty' and 'free markets,' and sketches directions for a humane alternative to domination by 'corporate overlords' and the state power to which they are closely linked."--Noam Chomsky


---