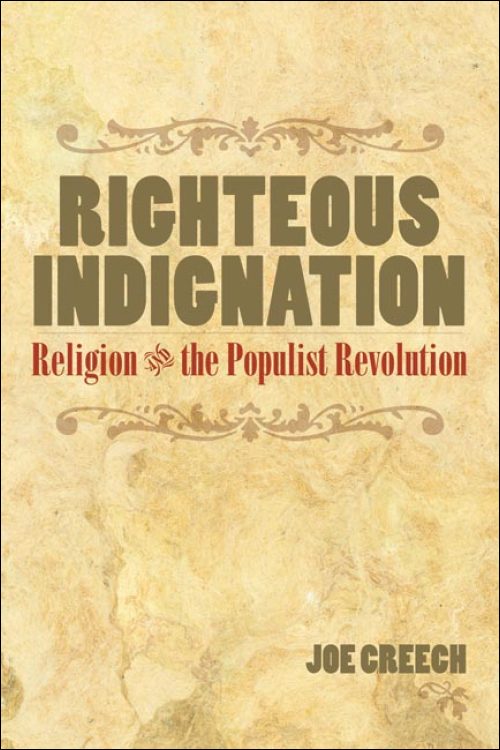 Righteous Indignation
Religion and the Populist Revolution
A striking new understanding of Populism by uncovering the way religious commitments shaped the Populist revolt of the 1890s
Paper – $28
978-0-252-07315-1
eBook – $19.95
978-0-252-09091-2
Publication Date
Paperback: 01/01/2006
Cloth: 07/24/2006
About the Book
Righteous Indignation
uncovers what motivated conservative, mostly middle-class southern farmers to revolt against the Democratic Party by embracing the radical, even revolutionary biracial politics of the People's Party in the 1890s. While other historians of Populism have looked to economics, changing markets, or various ideals to explain this phenomenon, in
Righteous Indignation,
Joe Creech posits evangelical religion as the motive force behind the shift.
This illuminating study shows how Populists wove their political and economic reforms into a grand cosmic narrative pitting the forces of God and democracy against those of Satan and tyranny, and energizing their movement with a sacred sense of urgency. This book also unpacks the southern Protestants' complicated approach to political and economic questions, as well as addressing broader issues about protest movements, race relations, and the American South.
About the Author
Joe Creech teaches history and humanities at Valparaiso University.
Reviews
"Creech . . . has built on his graduate work to make a valuable contribution to the understanding of the US Populist movement. . . . Recommended."--Choice

"Righteous Indignation is a thought-provoking book and offers fresh insight into the motivations of the Populist movement."--Southern Historian

"Unlike many political historians, [Creech] is admirably attentive to the nuances of religion, and is able to demonstrate clearly how people understood political and economic conflicts through the lenses of soteriology and cosmic struggle. . . This volume is a first-rate contribution to studies of Populism."--North Carolina Historical Review

"This provocative and often absorbing book posits Populism as merely the political component of a complex cultural crisis in southern life felt by evangelical Protestants. . . . Righteous Indignation is an intriguing work that requires serious study by rural, religious, and political historians."--Journal of American History

"Creech's concise and lucid study provides remarkable evidence that serious attention to religious history can richly inform social and political history. "--Journal of Southern Religion

"Righteous Indignation contributes to the foundation of statewide analysis upon which future studies can build in order to examine Populist radicalism through a broader synthesis."Journal of the Gilded Age and Progressive Era

"Righteous Indignation represents a perceptive and balanced study that illuminated this well-plowed field in fresh ways."--Journal of Southern History

"Creech shows in exquisite detail the pervasiveness of evangelicalism among key organizations."--Religious Studies Review
---