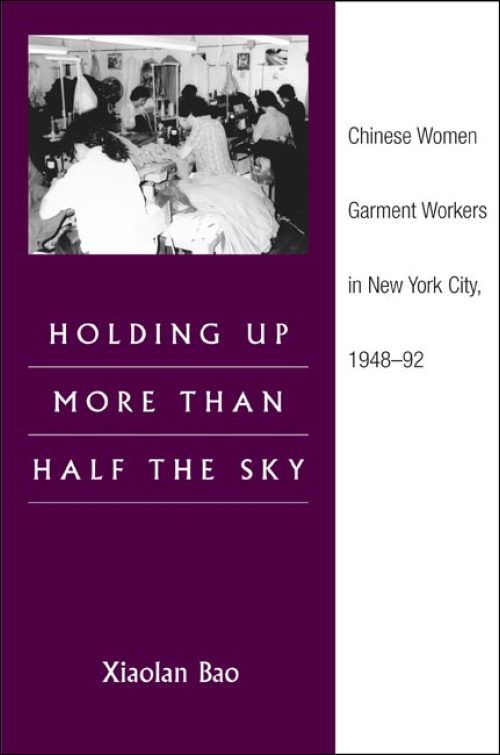 Holding Up More Than Half the Sky
Chinese Women Garment Workers in New York City, 1948-92
Behind the scenes of the dramatic 1982 strike of 20,000 Chinese American garment workers
Paper – $28
978-0-252-07350-2
Publication Date
Paperback: 01/01/2006
About the Book
In 1982, 20,000 Chinese-American garment workers—most of them women—went on strike in New York City. Every Chinese garment industry employer in the city soon signed a union contract. The successful action reflected the ways women's changing positions within their families and within the workplace galvanized them to stand up for themselves.
Xiaolan Bao's now-classic study penetrates to the heart of Chinese American society to explain how this militancy and organized protest, seemingly so at odds with traditional Chinese female behavior, came about. Drawing on more than one hundred interviews, Bao blends the poignant personal stories of Chinese immigrant workers with the interwoven history of the garment industry and the city's Chinese community. Bao shows how the high rate of married women employed outside the home profoundly transformed family culture and with it the image and empowerment of Chinese American women. At the same time, she offers a complex and subtle discussion of the interplay of ethnic and class factors within New York's garment industry.
Passionately told and prodigiously documented, Holding Up More Than Half the Sky examines the journey of a community's women through an era of change in the home, on the shop floor, and walking the picket line.
About the Author
Xiaolan Bao was an associate professor of history at California State University at Long Beach.
Reviews
"Bao does an excellent job in not only portraying Chinese women workers' work and lives, but also revealing that the Chinese women's labor history in New York's garment industry is also part of American labor history, and they can only fully be understood through the complex interactions of race/ethnicity, class, and gender."--Wei Li,
Journal of Asian Studies
"A significant reference for scholars of women's studies, Chinese American history, immigration history, and labor history."--Huping Ling,
American Historical Review
"Offers a nuanced picture of transformations in personal and family life. Particularly successful are the portrayals of women's growing financial and emotional centrality in the family and of relations among Chinese women born in different parts of the world."--Adam McKeown,
Journal of American History
"Xiaolan Bao's book makes a significant contribution to the literature on Chinese American historical experiences. This excellent case study is a fine example of serious empirical investigation."--Renqiu Yu,
Journal of American Ethnic History
"Bao's research offers valuable insights into the intersection of race and class, one of the central questions in her book. . . . Bao's work reminds us that to fully appreciate how the two dimensions of race and class intersected, we also need to take a gendered perspective."--
Left History
"Theoretically informed and thoroughly researched, this multilayered study demonstrates the author's grasp of the complex experiences of the Chinese garment workers and their place within the larger historical context."--
Business History Review
---
Blurbs
"Xiaolan Bao has written a moving and important book about Chinese women in New York City's garment industry. Because of her reliance on more than a hundred oral histories, she makes the women speak for themselves as well as inform the reader. Historians of immigration and women will find this a gem."--David M. Reimers, author of Still the Golden Door: The Third World Comes to America

"This monumental study thoroughly examines the peculiar nature and situation of the Chinese female garment workers and their relations within their community and family, with their employers, and with the American unions. Xiaolan Bao's use of interviews, newspapers, and other sources in both Chinese and English makes this work particularly valuable."--Sue Fawn Chung, author of Power and Influence: The Hongmen Zhigongtang, a Chinese Secret Society in the American West
---