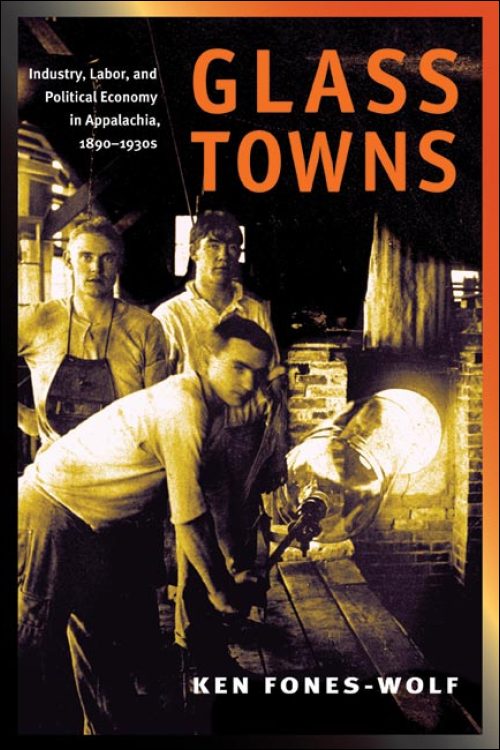 Glass Towns
Industry, Labor, and Political Economy in Appalachia, 1890-1930s
Exploring a path not taken in Appalachian economic development
Paper – $28
978-0-252-07371-7
Publication Date
Paperback: 01/01/2007
Cloth: 01/29/2007
About the Book
While rich in natural resources, Appalachia remains a nationwide symbol of poverty. Ken Fones-Wolf deftly combines labor and business history to examine how a promising partnership between West Virginia and the glass industry failed to improve the state's political economy.
State leaders saw glass as a potential cornerstone industry that promised high wages, reinvestment in the local economy, and a complement to the state's abundance of timber and fossil fuels. Fones-Wolf draws on case studies of three glass production hubs to analyze the impact of industry on local populations and the Belgian- and French-born craftsmen who took jobs in the area. Throughout, Fones-Wolf examines patterns of global industrial restructuring, the ways workers reshaped workplace culture and political action, and employer strategies for responding to global competition, unreliable markets, and growing labor costs at the end of the nineteenth century.
Incisive and rich in on-the-ground detail, Glass Towns examines an Appalachian pursuit of self-sustaining development.
About the Author
Ken Fones-Wolf is professor emeritus of history at West Virginia University. He is the coauthor of Struggle for the Soul of the Postwar South: White Evangelical Protestants and Operation Dixie and author of Culture, Class, and Politics in Modern Appalachia.
Reviews
"While those interested in the region's local history will enjoy the chapters dealing with the West Virginia glass towns, the book will appeal primarily to academic audiences. Those interested in business, labor, and ethnic history will find this to be a useful study. Recommended."--Choice

"Ken Fones-Wolf's long awaited study on the glass industry in West Virginia is a welcome corrective, offering readers a more complex and polychromatic, albeit still bleak, narrative of Appalachia's economic past. . . . Fones-Wolf is able not only to trace the history of glass-making in each community, but also to make interesting comparisons and contrasts among the three regarding structure and behavior of labor, the organization and strategies adopted by capital, the differential technological imperatives in each branch of the industry, and the manner in which the local factors shaped the political economy of each community."--Labor History

"Glass Towns effectively chronicles a story of the restructuring of both local and state economies in which technological, economic, political, geographical, cultural, and geological factors all shaped the process."--Technology and Culture

"Ken Fones-Wolf helps to broaden our vision of capitalist development in the mountains with his perceptive study of West Virginia's glass industry. . . . This well-researched and highly readable study forces us to look beyond coal and other extractive industries for explanations of the economic and political distress that has plagued the region."--West Virginia History

"By relating political and economic decisions to one another, Glass Towns offers a more complex look at West Virginia history and may well serve as a model for future historical research about the Mountain State and the Appalachian region."--Goldenseal

"Ken Fones-Wolf has written a fine, provocative and iconoclastic book that merits most serious attention. It encourages a rethinking of glass-making on both sides of the Atlantic and a much needed reappraisal of the making of one of America's most interesting and perplexing regions."--International Review of Social History
---