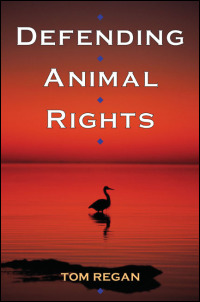 Defending Animal Rights
A multifaceted response to the question "Do animals have rights?" from an intellectual leader in the animal rights movement.
Paper – $23
978-0-252-07416-5
Publication Date
Paperback: 01/01/2007
About the Book
More than a contest of wills representing professional and economic interests, the animal rights debate is also an enduring topic in normative ethical theory. In paperback for the first time,
Defending Animal Rights
addresses the key issues in this sometimes acrimonious debate.
Tom Regan responds thoughtfully to his critics while dismantling the conception that "all and only" human beings are worthy of the moral status that is the basis of rights. Systematically unraveling claims that human beings are rational and therefore entitled to superior moral status, Regan defends the inherent value of all individuals who are "subjects of a life" and decries the speciesism that pretends to separate human from nonhuman animals.
About the Author
Tom Regan is the professor emeritus of philosophy at North Carolina State University. He is the author of The Case for Animal Rights and many other books.
Reviews
"Amongst ethical topics, animal rights is perhaps the hottest, most divisive, and least understood. . . . This book helps to clarify one of the most important and perplexing quandaries of our time. Through it all, the voice of Tom Regan is congenial, humble, and warm-hearted. If you want to read a philos-ophy book on ethics and animals, this one is a gem--and why not read one written by a master?"--
Philosophy Now
, Lisa Kemmerer
"Regan's expertise in animal rights and moral philosophy, combined with the advocacy roles he has assumed over the years, provide a clear presentation of a[n] . . . animal rights position."--
Perspectives on Science and Christian Faith
---
Blurbs
"There's no one quite like Regan for building a case for animal rights, using critical analysis to view rights from a moral and a factual approach, assessing the approaches and then defending them."--Claudette Vaughan, Animal Liberation

"Tom Regan is a master of clear argumentation, and here he expresses his views more clearly and incisively than ever. Packed with important insights and observations, Defending Animal Rights is a valuable contribution to the ongoing debates regarding animal rights and related issues."-- Susan Finsen, coauthor of The Animal Rights Movement in America: From Compassion to Respect
---