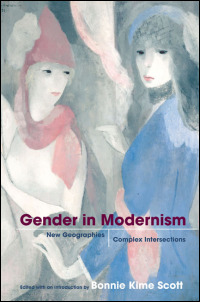 Gender in Modernism
New Geographies, Complex Intersections
Cloth – $125
978-0-252-03171-7
Paper – $44
978-0-252-07418-9
Publication Date: June 2007
About the Book
Gender in Modernism
, conceived as a sequel to Bonnie Kime Scott's now-classic volume
The Gender of Modernism
, delivers fresh and diverse texts that examine new themes and reflect today's broader, more inclusive understanding of modernism.
The modernist works collected in this reader have been grouped into twenty-one thematic sections, with theoretical introductions to the primary texts provided by scholars who have taken the lead in pushing both modernism and gender in new directions. The selections enhance our understanding of the complex intersections of gender with a large array of social identifications, including global location, ideas of race, passing, the queering of sexualities, medicine, and experiences of trauma and war. The volume explores continental modernism and moves on to colonial and postcolonial sites. The collection also considers editors, journalists, and the creators of less-studied genres of modernism, including writers on the left, suffragists, authors of manifestoes, mediums, authors dismissed as sentimental, artists, dancers, dramatists, and filmmakers.
Contributors include Tuzyline Jita Allan, Ann Ardis, Nancy Berke, Julia Briggs, Pamela L. Caughie, Mary Chapman, Suzanne Clark, Patrick Collier, Diane F. Gillespie, Barbara Green, Leslie Kathleen Hankins, Suzette A. Henke, Katherine E. Kelly, Colleen Lamos, Bette London, Janet Lyon, Jayne E. Marek, Sonita Sarker, Carol Shloss, Susan Squier, Claire M. Tylee, and Gay Wachman.
About the Author
Bonnie Kime Scott is a professor of English and women's studies at San Diego State University. She is the author or editor of nine books, including Selected Letters of Rebecca West, Virginia Woolf: Turning the Centuries, and The Gender of Modernism.
Reviews
"This anthology cannot fail to broaden understanding of modernism. . . . Highly recommended."--
Choice
"
Gender in Modernism
is an indispensable volume that belongs in university as well as personal libraries and in courses focused on literature, history, gender, Women's Studies, and more."--
Clio
"[
Gender in Modernism
] is a book any modernist will want to own, the starting point for new research projects, a guide for revising an undergraduate syllabus, a potential text for graduate seminars. I thoroughly enjoyed my time with the volume and applaud both the many highly valuable contributors of the individual editors and the vision and editorial acumen of Scott."--
James Joyce Literary Supplement
"An excellent resource in its own right as well as a welcome and judiciously framed companion volume to Scott's ground-breaking collection."--
The Review of English Studies
"Compelling, thought-provoking, and invaluable resource for anyone working in modernist studies today."--
Modernism/Modernity
---
Blurbs
"Organized by categories that place modernism within the cultural cross-currents of the period, Gender in Modernism will be enormously useful to scholars and students alike."--Brenda R. Silver, author of Virginia Woolf Icon and other books

"An immensely impressive achievement. . . . One of the chief and admirable purposes of this critical anthology is making readily available a body of work, much or most of which is not now fully accessible or even widely known. And the list of contributors--who have selected and introduced the works--is formidable."--Morris Beja, author of James Joyce: A Literary Life and editor of a scholarly edition of Virginia Woolf's Mrs. Dalloway, among other books

"An important addition to the ever-evolving field of modernist studies. Thisnew reader admirably lays out both the shifts and some of the tensions in current conceptualizations of modernism. Most usefully, it also makes available for the first time not only unknown texts by canonical figures like Virginia Woolf and Radclyffe Hall but also a wealth of truly non-canonical writings that will invigorate and enrich the field."--Barbara Will, author of Gertrude Stein, Modernism, and the Problem of "Genius"

"Gender in Modernism provides an invaluable research tool for those interested in how the gender and sexual politics of Anglo-American Modernism pervaded the various controversies and experimental projects for which it has become famous. The organization of this monumentally imposing volume deserves special praise. The general editor has done a masterful job in putting together a critical and archival taxonomy that gives intelligible proportions to a complex and wide-ranging field of inquiry."--Joseph Valente, director of Irish Studies, University of Illinois at Urbana-Champaign
---