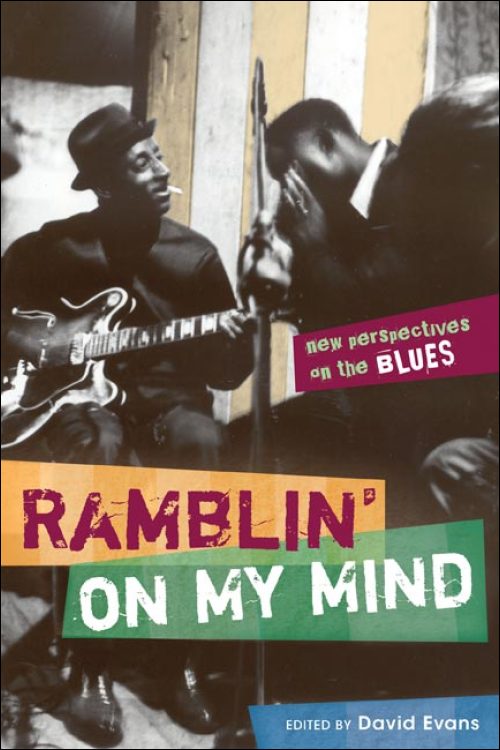 Ramblin' on My Mind
New Perspectives on the Blues
A diverse look at blues history, styles, and performances
Paper – $30
978-0-252-07448-6
eBook – $19.95
978-0-252-09112-4
Publication Date
Paperback: 01/01/2008
Cloth: 02/04/2008
About the Book
This compilation of essays takes the study of the blues to a welcome new level. Distinguished scholars and well-established writers from such diverse backgrounds as musicology, anthropology, musicianship, and folklore join together to examine blues as literature, music, personal expression, and cultural product.
Ramblin' on My Mind
contains pieces on Ella Fitzgerald, Son House, and Robert Johnson; on the styles of vaudeville, solo guitar, and zydeco; on a comparison of blues and African music; on blues nicknames; and on lyric themes of disillusionment.
Contributors are Lynn Abbott, James Bennighof, Katharine Cartwright, Andrew M. Cohen, David Evans, Bob Groom, Elliott Hurwitt, Gerhard Kubik, John Minton, Luigi Monge, and Doug Seroff.
About the Author
David Evans is a professor in the Rudi E. Scheidt School of Music at the University of Memphis and the author of Big Road Blues: Tradition and Creativity in the Folk Blues, Tommy Johnson, and The NPR Curious Listener's Guide to Blues. A seasoned performer and producer, Evans is also a Grammy Award winner.
Reviews
"Evans offers a fresh look at blues scholarship, from its musical roots to interpretations of meaning in post-WW II compositions. . . . The book will appeal to casual blues enthusiasts as much as to serious scholars. . . . Highly recommended."--
Choice
"[An] illuminating volume. . . . Recommended to all blues fans."--
Sing Out
"Like a program album wherein melodies and chords are carried from song to song, the authors in this collection pass themes from one essay to the next."--
Journal of Southern History
"Indispensable."--
American Book Review
"A wide analysis of important and interesting elements of blues history and culture."--
Journal of American Folklore
---
Blurbs
"A superb overview of blues scholarship that is followed by a rich and diverse set of essays. There could be no stronger group of scholars assembled to deal with this topic. Many of the contributors have devoted a lifetime to the blues. Their combined research is a truly awesome tribute to the global importance of blues."--William Ferris, Joel R. Williamson Distinguished Professor of History, University of North Carolina at Chapel Hill
---