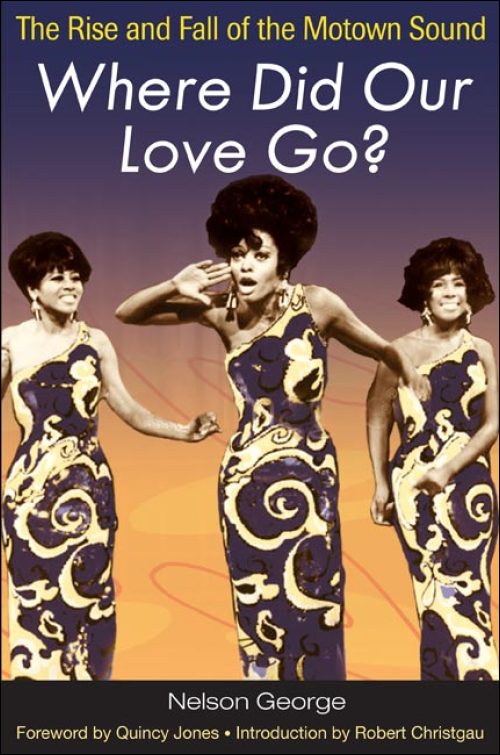 Where Did Our Love Go?
The Rise and Fall of the Motown Sound
Foreword by Quincy Jones, Introduction by Robert Christgau
The acclaimed inside look at Motown and the visionary Barry Gordy Jr.
Paper – $26.95
978-0-252-07498-1
Publication Date
Paperback: 01/01/2007
About the Book
Nelson George's chronicle of Motown Records' rise and fall remains a classic account of an essential American music company and its dynamic founder Berry Gordy Jr.
Gordy's uncanny instinct for finding extraordinary talent--from performers and musicians to songwriters and producers—packed the label's roster with a who's who of historic artists and hitmakers. Here is the story of the Supremes and superstar Diana Ross, of the towering solo acts Marvin Gaye and Stevie Wonder, of vocal groups led by the Temptations and Four Tops, of the phenomenal Jackson Five and Michael Jackson, and of singer/songwriter and Motown executive Smokey Robinson. Up front about Gordy's manipulative and complex relationships with his artists, George reveals the inner workings of how Motown conducted its business. He also offers portraits of the Funk Brothers and other musicians who played the unforgettable songs.
George's preface shows how Motown influenced a later generation of young artists and music moguls, including R. Kelly, D'Angelo, Sean Combs, and Russell Simmons.
About the Author
Nelson George is a film and television producer and the prolific, bestselling author of The Death of Rhythm and Blues, Hip Hop America, Thriller: The Musical Life of Michael Jackson, and numerous other books.
Reviews
"George's reporting is first-rate, and there are juicy anecdotes, nuggets of gossip, and trivia, along with the straight corporate history. . . . This is a book for pop music fans, anyone curious about the recording industry, and fans of Dreamgirls who want to know the true story."--Philadelphia Daily News

"A can't-put-down study of Berry Gordy and Motown. This is it, no punches pulled, as important a piece of pop history as has been published."--New York Daily News

"Leagues beyond other volumes written about Motown."--Detroit Free Press
---