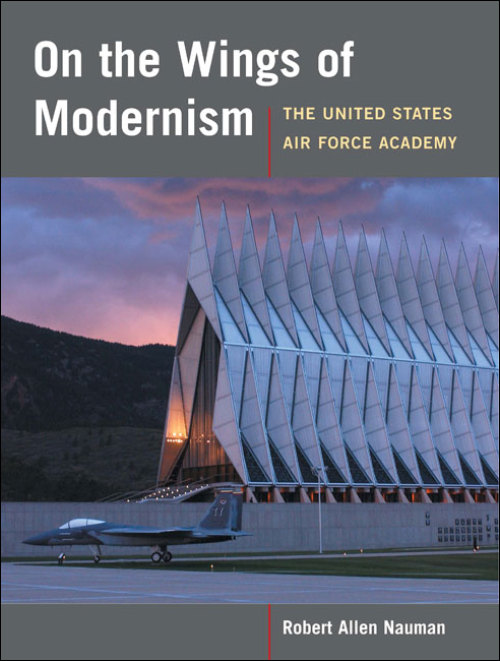 On the Wings of Modernism
The United States Air Force Academy
A lavishly illustrated history of the academy's construction, from earliest conception to eventual completion
Paper – $25.95
978-0-252-07515-5
Publication Date
Paperback: 01/01/2008
Cloth: 04/12/2004
About the Book
The United States Air Force Academy stands as one of the most extensive architectural projects of the cold war era. Key to a full understanding of American modernism, the project was also a volatile battleground involving competing ideas about aesthetics and politics. Arguing that the academy's production was squarely grounded in bureaucratic and political processes, Robert Allen Nauman demonstrates that selection of both the site and the design firm was the result of political maneuverings involving U.S. military leadership.
In the academy's iconic design, myths and metaphors of flight and the American West were interwoven with those of modernism, both to justify the plan and to free it from any lingering socialist or European associations. Skidmore, Owings, and Merrill's first public exhibition of plans and models for the project was designed by the former Bauhaus master Herbert Bayer, and it incorporated photographs of the Colorado Springs site by Ansel Adams and William Garnett. Using previously unexplored resources of the U.S. Air Force Academy, SOM, and the Air Force Academy Construction Agency, Nauman uncovered materials such as negatives of Adams's original photographs of the sites. He also conducted extensive interviews with SOM's project director for the academy, Walter Netsch, in tracing the complete history of the academy's construction, from its earliest conception to eventual completion.
About the Author
Robert Allen Nauman teaches the history of art and architecture in the Department of Art and Art History at the University of Colorado, Boulder.
Reviews
---
Blurbs
"Nearly half a century after the fact, there can be no question that this complex ranks among the major modernist works of its era in the U.S. This behind-the-scenes view of how this vast project evolved affords insight on the making of architecture that we are seldom able to attain."--Richard Longstreth, author of City Center to Regional Mall: Architecture, the Automobile, and Retailing in Los Angeles

"Drawing upon a wealth of correspondence, company archives, inter-office memos, the records of congressional hearings, and contemporary media accounts, Nauman has developed a detailed narrative of the political and architectural debates that led up to the construction of the U.S. Air Force Academy in Colorado Springs. Extremely well written and thoroughly researched, the book admirably places the genesis of the academy within the broader stylistic and political context of the cold war."--Kenneth Breisch, author of Henry Hobson Richardson and the Small Public Library in America
---