Domestic Perspectives on Contemporary Democracy
Forecasting the future of democracy
Paper – $26
978-0-252-07521-6
eBook – $19.95
978-0-252-09197-1
Publication Date
Paperback: 01/01/2008
Cloth: 05/05/2008
About the Book
In looking at the remarkable proliferation of democracies since 1974, this volume offers important insight into the challenges and opportunities that democracy faces in the twenty-first century. Distinguished contributors detail difficulties that democracies face from within and how they deal with them. Among the contemporary threats to democracy emanating from internal sources are tensions arising over technology and its uses; ethnic, religious, and racial distinctions; and disparate access to resources, education, and employment. A democratically elected government can behave more or less democratically, even when controlling access to information, using legal authority to aid or intimidate, and applying resources to shape the conditions for the next election. With elections recently disputed in the United States, Mexico, Lebanon, and the Ukraine, debates about the future of democracy are inescapably debates about what kind of democracy is desired.
Contributors are W. Lance Bennett, Bruce Bimber, Jon Fraenkel, Brian J. Gaines, Bernard Grofman, Wayne V. McIntosh, Peter F. Nardulli, Mark Q. Sawyer, Stephen Simon, Paul M. Sniderman, and Jack Snyder.
About the Author
Peter F. Nardulli
is a professor of political science, holds an appointment in the College of Law, and is the founding director of the Cline Center for Democracy at the University of Illinois, Urbana-Champaign. He is the author or editor of many books, including
Popular Efficacy in the Democratic Era: A Reexamination of Electoral Accountability in the United States, 1828-2000.
---
Also by this author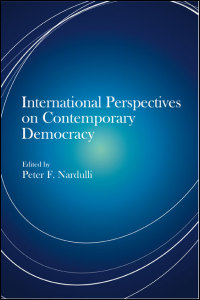 Reviews
---
Blurbs
"The question of how democratic government reacts to the challenges of societal and technological changes is of tremendous importance. The distinguished contributors provide accessible overviews of a variety of important topics related to the success of democracy, including multi-ethnic threats to democracy and government tactics for spying on its citizens. Highly recommended."--James L. Gibson, author of Overcoming Apartheid

"Setting out the main challenges that face both emerging and mature democracies, this collection will be essential for political scientists, sociologists, economists, historians, and communications scholars who seek to understand the nature of democracy in the twenty-first century."--Edward G. Carmines, coauthor of Issue Evolution and Reaching Beyond Race
---