International Perspectives on Contemporary Democracy
An inaugural volume in the series Democracy, Free Enterprise, and the Rule of Law--forecasting the future of democracy
Paper – $26
978-0-252-07544-5
eBook – $19.95
978-0-252-09196-4
Publication Date
Paperback: 01/01/2008
Cloth: 06/23/2008
About the Book
Democracy enjoys unparalleled prestige at the beginning of the twenty-first century as a form of government. Some of the world's most prosperous nations are democracies, and an array of nations in Europe, Africa, and South America have adopted the system. This globalization has also met resistance and provoked concerns about international power exerted by institutions and elites that are beyond the control of existing democratic institutions. In this volume, leading scholars of democracy engage the key questions about how far and how fast democracy can spread, and how international agencies and international cooperation uneasily affect national democracies. At first glance, the efforts of intergovernmental organizations to intervene in a nation's governance seem anything but democratic to that nation. The contributors demonstrate why democracy has been so attractive and so successful, but are also candid about what limits it may reach, and why.
Contributors are Lisa Anderson, Larry Diamond, Zachary Elkins, John R. Freeman, Brian J. Gaines, James H. Kuklinski, Peter F. Nardulli, Melissa A. Orlie, Buddy Peyton, Paul J. Quirk, Wendy Rahn, Bruce Russett, and Beth Simmons.
About the Author
Peter F. Nardulli
is a professor of political science, holds an appointment in the College of Law, and is the founding director of the Cline Center for Democracy at the University of Illinois, Urbana-Champaign. He is the author or editor of many books, including
Popular Efficacy in the Democratic Era: A Reexamination of Electoral Accountability in the United States, 1828-2000.
---
Also by this author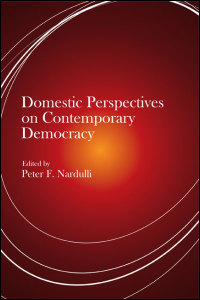 Reviews
"The volume offers an interesting debate on future prospects for democracy. . . . Recommended."--
Choice
"Highly recommended for history teachers of recent global history, U.S. foreign policy since 1945, and specialists on democracy or political ideology."--
Teaching History
---
Blurbs
"An important reflection on the challenges facing democratic governance. This fascinating book offers an eclectic mix of novel contributions to the study of democracy and is most appropriate for classes in democratization, globalization, and international political economy."--Raymond M. Duch, associate editor of American Journal of Political Science

"An outstanding book on the international dimensions of democracy. It brings together scholars from virtually all sub-disciplines in political science--comparative politics, international relations, political economy, American politics, and political theory--in its systematic treatment of the international factors underlying democratization processes. An ideal tool for courses in any of these fields."--José Antonio Cheibub, author of Presidentialism, Parliamentarism, and Democracy
---