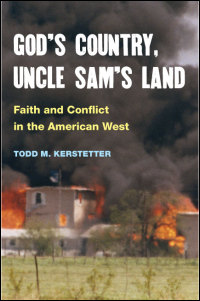 God's Country, Uncle Sam's Land
Faith and Conflict in the American West
How and why three emerging religious groups failed to find a peaceful home in a purportedly tolerant region
Paper – $30
978-0-252-07588-9
Publication Date: Cloth: 2006; Paper: 2008
About the Book
While many studies of religion in the West have focused on the region's diversity, freedom, and individualism, Todd M. Kerstetter brings together the three most glaring exceptions to those rules to explore the boundaries of tolerance as enforced by society and the U.S. government.
God's Country, Uncle Sam's Land analyzes Mormon history from the Utah Expedition and Mountain Meadows Massacre of 1857 through subsequent decades of federal legislative and judicial actions aimed at ending polygamy and limiting church power. It also focuses on the Lakota Ghost Dancers and the Wounded Knee Massacre in South Dakota (1890), and the Branch Davidians in Waco, Texas (1993). In sharp contrast to the mythic image of the West as the "Land of the Free," these three tragic episodes reveal the West as a cultural battleground--in the words of one reporter, "a collision of guns, God, and government." Asking important questions about what happens when groups with a deep trust in their differing inner truths meet, Kerstetter exposes the religious motivations behind government policies that worked to alter Mormonism and extinguish Native American beliefs.
About the Author
Todd M. Kerstetter is an associate professor of history at Texas Christian University, Fort Worth.
Reviews
"Kerstetter's well-written study unpacks how devastating the conflict becomes when mythic worlds--in this case those of region and religion--collide."--Great Plains Quarterly

"An important contribution to our understanding both of the role of religion in the development of the American West and of the interplay of government and social geography in shaping religion."--Journal of American History

"Kerstetter has selected a trio of events that not only invite comparison but also stimulate critical questioning. . . . [A] well-balanced and exemplary book."--American Historical Review

"Stunning objectivity and deep understanding of three distinct and different religious ideologies is clear throughout the narrative."--History Teacher

"Each essay shines both in its readability and its effectiveness . . . . A powerful volume of history that reinforces an ongoing reassessment of historical views of the American West and the whole notion of American religious freedom."--Utah Historical Quarterly

"A useful survey of scholarly knowledge. . . . Kerstetter's book is a welcome step toward a fuler understanding of the nation's past, and especially the violent episodes in its past, as Americans grappled with the question of tolerating diversity."--Journal of American Academy of Religion
---