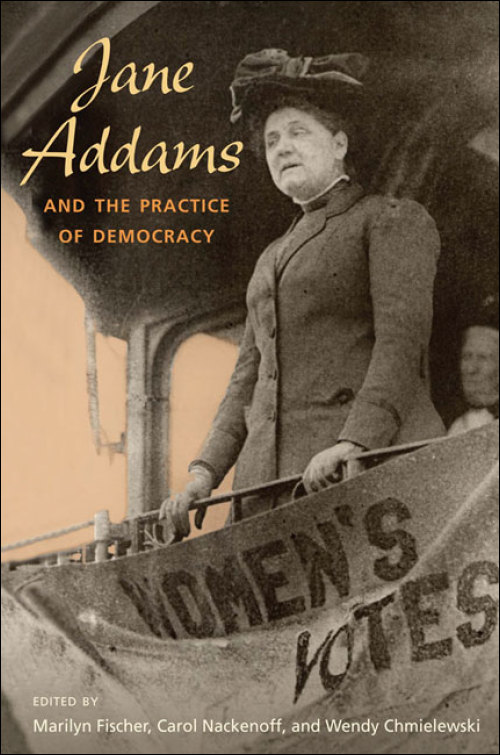 Jane Addams and the Practice of Democracy
A fresh, interdisciplinary approach to Addams's thought on democracy, citizenship, and international peace
Paper – $27
978-0-252-07612-1
eBook – $14.95
978-0-252-09122-3
Publication Date
Paperback: 01/01/2009
Cloth: 02/02/2009
About the Book
Using a rich array of newly available sources and contemporary methodologies from many disciplines, the ten original essays in this volume give a fresh appraisal of Addams as a theorist and practitioner of democracy. This volume demonstrates how scholars continue to interpret Addams as a model for transcending disciplinary boundaries, generating theory out of concrete experience, and keeping theory and practice in close and fruitful dialogue.
Contributors are Harriet Hyman Alonso, Victoria Bissell Brown, Wendy Chmielewski, Marilyn Fischer, Shannon Jackson, Louise W. Knight, Carol Nackenoff, Karen Pastorello, Wendy Sarvasay, Charlene Haddock Seigfried, and Camilla Stivers.
About the Author
Marilyn Fischer is a professor of philosophy at the University of Dayton and a coeditor of a four-volume set of Jane Addams's Writings on Peace. Carol Nackenoff is Richter Professor of Political Science at Swarthmore College and the author of The Fictional Republic: Horatio Alger and American Political Discourse. Wendy Chmielewski is the George Cooley Curator of the Swarthmore College Peace Collection, which holds the largest collection of Jane Addams's papers and other material related to Addams and her work for peace.
Reviews
"Profound and comprehensive."--
Peace and Change
---
Blurbs
"This excellent volume illuminates the template Nobel Prize winner Jane Addams forged by conceptualizing citizenship to include welfare rights, appreciation for diversity, and peace-oriented global connections. This book belongs in the hands of activists, scholars, policy makers, and concerned citizens alike."--Eileen McDonagh, author of The Motherless State: Women's Political Leadership and American Democracy

"A coherent, thoughtful volume that promises to introduce a new generation of students to the thought of Jane Addams. Theorists of all sorts will have to grapple with her ideas about citizenship, participation, peace, care, diversity and difference, and building a better community."--Eileen Boris, coeditor of The Practice of U.S. Women's History: Narratives, Intersections, and Dialogues

"A treasure trove of new Jane Addams scholarship that confirms her continuing relevance to our new century. As these essays clearly demonstrate, on the crucial areas of immigration, democratization, globalization, and gender issues, Addams was light years ahead of her time."--Larry Hickman, author of Pragmatism as Post-Postmodernism: Lessons from John Dewey
---