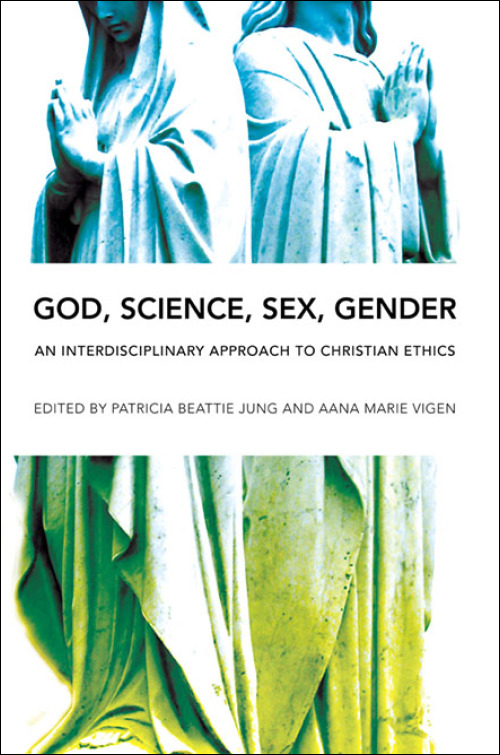 God, Science, Sex, Gender
An Interdisciplinary Approach to Christian Ethics
A much-needed call for Christian ethicists to consider the full range of human sexuality
Paper – $32
978-0-252-07724-1
Publication Date
Paperback: 06/21/2010
Cloth: 06/21/2010
About the Book
God, Science, Sex, Gender: An Interdisciplinary Approach to Christian Ethics
is a timely, wide-ranging attempt to rescue dialogues on human sexuality, sexual diversity, and gender from insular exchanges based primarily on biblical scholarship and denominational ideology. Too often, dialogues on sexuality and gender devolve into the repetition of party lines and defensive postures, without considering the interdisciplinary body of scholarly research on this complex subject. This volume expands beyond the usual parameters, opening the discussion to scholars in the humanities, social sciences, and natural sciences to foster the development of Christian sexual ethics for contemporary times.
Essays by prominent and emerging scholars in the fields of anthropology, sociology, psychology, philosophy, literary studies, theology, and ethics reveal how faith and reason can illuminate our understanding of human sexual and gender diversity. Focusing on the intersection of theology and science and incorporating feminist theory, God, Science, Sex, Gender is a much-needed call for Christian ethicists to map the origins and full range of human sexual experience and gender identity. Essays delve into why human sexuality and gender can be so controversial in Christian contexts, investigate the complexity of sexuality in humans and other species, and reveal the implications of diversity for Christian moral theology.
Contributors are Joel Brown, James Calcagno, Francis J. Catania, Pamela L. Caughie, Robin Colburn, Robert Di Vito, Terry Grande, Frank Fennell, Anne E. Figert, Patricia Beattie Jung, Fred Kniss, John McCarthy, Jon Nilson, Stephen J. Pope, Susan A. Ross, Joan Roughgarden, and Aana Marie Vigen.
About the Author
Patricia Beattie Jung is a professor of Christian ethics and the Oubri A. Poppele Professor of Health and Welfare Ministries at St. Paul School of Theology. She is the coeditor of Good Sex: Feminist Perspectives from the World's Religions. Aana Marie Vigen is an assistant professor of ethics at Loyola University and the author of Women, Ethics, and Inequality in U.S. Healthcare: "To Count among the Living."
Reviews
"A remarkable endeavor by experts from various disciplines."--
Anglican Theological Review
"This book makes great strides towards bridging intellectual divides between science, religion, gender, sexuality and ethics."--
Religion and Gender
"A methodological must-read for ethicists of sexuality and for all ethicists wishing to engage biological and social sciences rigorously."--
Equinox Publishing
---
Blurbs
"A tremendously important collection that brings together science, literature, theology, and biblical studies in riveting and revolutionary ways. The essays are remarkably integrated and accessible."--Christine Gudorf, author of Boundaries: A Casebook in Environmental Ethics
---